Extraordinary boats fascinated the spectators
University of Twente and TU Dortmund winning the 12th German
Concrete Canoe Regatta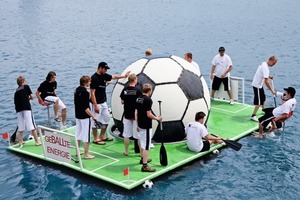 (Pictures/Bilder: BetonBild)
Fig. 1
Gained the first place in the category "open class": the boat "GeBALLte Energie" of Lausitz University of Applied Sciences.
(Pictures/Bilder: BetonBild)
On June 20, 2009, the 12th German Concrete Canoe Regatta took place on the Baldeneysee in Essen (Germany). More than 900 students and trainees launched their self-made canoes and vessels made of concrete on the occasion of an extraordinary competition. In the men's class of the tournament the team of the University of Twente, The Netherlands, won with a lead of 19 seconds over the following teams of the University of Regengsburg (Germany) and the Georg Agricola University of Applied Sciences of Bochum (Germany). Among the ladies, the team of the University of Dortmund won the race. The teams of the Bauhaus-Universität Weimar and the University of Augsburg (both Germany) were placed second and third.
The contestants of the regatta came from universities, universities of applied sciences and other institutions teaching on concrete technology. Prior to the tournament, the teams had to solve a tricky task together with their teachers. They had to build a canoe made of concrete that is both robust and impermeable to water and may furthermore withstand the tough conditions of a race. On Saturday just about 5,000 visitors admired the 80 boats of concrete on the boat race course having a length of 400 m.

A swimming castle of the HAWK Hildesheim and a round swimming island of the TU Dresden gained...