Molds for Hollow Blocks
New Molds Have Already Proven Themselves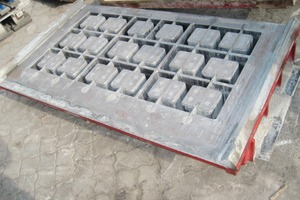 Fig. 1
After more than 50,000 production cycles the hollow block mold of carbo™ - hardness obviously does not show any wear and tear.
Abb. 1
Nach über 50.000 Produktionstakten ist bei der Hohlblockform in »carbo™« - Härte kein Verschleiß sichtbar
 Numerous concrete plants around the world rely on the high-quality of standardized and customized molds made by Kobra Formen GmbH. For almost 20 years now, the requests of customers have been implemented in innovative and practical solutions. The block molds are distinguished by a repair-friendly design as well as an excellent resistance to wear.
On the occasion of the Big 5 Show 2010 held in Dubai (U.A.E.) Kobra Formen GmbH will present an innovative mold technology for hollow blocks. Since this year's bauma in Munich (Germany), the company's demand has enormously grown in the field of hollow blocks. In this respect, the responses of numerous test customers are all in all positive.
As far as the hardening technique is concerned, besides the classical nitro™ - hardness the company has developed the new technique Optimill carbo™ for products having a height of more than 150 mm. The technique allows a homogenous hardness depth of 1.2 mm,...