Order in Poland: Elkon supplies concrete mixing plant in Koscierzyna
03.10.2023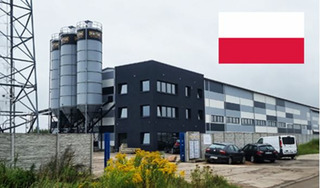 Figure: Elkon

The Elkomix-120 stationary concrete batching plant in Koscierzyna was designed to allow seamless integration into an existing building.
The plant has five aggregate bins and three cement silos, which ensure efficient material processing.
Milestone for Elkon
The aggregate bins are partially underground, which eliminates the need for ramps and maximises the available space. In addition, the bins are positioned so that they are adjacent to the existing building wall. To further minimise space requirements, the cement silos and mixing tower are positioned perpendicular to the aggregate bins on the opposite wall.
The completion of the 120 concrete batching plant in Poland is a significant milestone for us and underlines our position as the preferred manufacturer of concrete batching plants. This success is a clear sign of the continued trust our customers place in our solutions.
CONTACT
Elkon
Gazeteciler Sitesi,
Dergiler Sokak No:13 Esentepe
Istanbul/Turkey
+90 212 288 9633