ELKON
Purchase order for precast concrete batching plant in Bosnia and Herzegovina repeated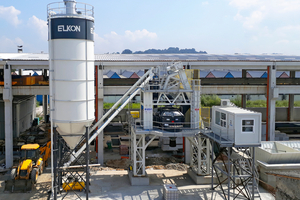 Figure: Elkon
An Elkon customer in Bosnia and Herzegovina is specialized, among others, in the production of prestressed concrete elements and hollow core slabs
Figure: Elkon
A regular customer of Elkon in Bosnia and Herzegovina is specialized, among others, in prestressed concrete elements and hollow core slabs. As a well-known manufacturer of concrete batching plants, Elkon was the first choice when the company needed a precast concrete plant of high quality for its operations. The first plant – an Elkomix-90 PL – had already been put into operation in 2018.
This Elkomix-90 concrete batching plant is equipped with an Elkon 2250/150 l. planetary mixer, and thanks to its optimized workflow and powerful planetary mixer, it is able to produce an impressive amount of 1.5 m³ of vibrated precast concrete. Skip buckets are used to feed the mixer with the aggregates. The cement is stored in two screwed cement silos. Some of the aggregate storage bins are situated underground and can be fed by dump trucks without the need of any concrete ramp.
Second Elkomix-90 PL concrete batching plant ordered
This Elkomix customer in Bosnia and Herzegovina has been using the stationary Elkomix-90 PL concrete batching plant for more than three year with success. As a result of their satisfaction with the top performance of the above-mentioned first plant and the order situation, the customer decided to expand its production capacity once again. Hence, a second Elkomix-90 PL concrete batching plant was added in the same configuration.
"At Elkon, we are still focusing on loyal and satisfied customers all over the world. We are firmly convinced that loyalty goes hand in hand with quality," states the responsible sales manager of Elkon.
CONTACT
Elkon
Gazeteciler Sitesi,
Dergiler Sokak No:13 Esentepe
Istanbul/Turkey
+90 212 288 9633