FISCHER
New RebarConnect FIS RC II injection mortar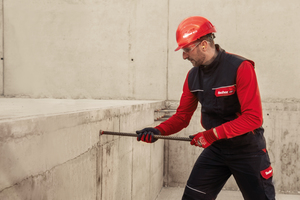 Figure: Fischerwerke
Subsequent reinforcement connections can be implemented durably and reliably by means of the new Fischer injection system
Figure: Fischerwerke
Whether connections of new walls, columns or stairs are concerned or closing of existing floor openings, constructing of ground slabs, concrete floors or extending of foundations – subsequently installed reinforcement connections by means of injection mortar have stand the test in the daily routine of construction. Accordingly, the chemical heavy-duty fastening systems are frequently used in this field of application in new construction and in rehabilitation projects.
With the new RebarConnect FIS RC II vinyl ester hybrid mortar, the specialist in fastening systems, Fischer, provides concrete construction companies with a strong as well as safe and cost-efficient solution for the subsequent reinforcement connection with ETA approval.
The chemistry is right between concrete and reinforcement
The ETA regulates applications with reinforcing bars having a diameter of 8 to 32 mm and an embedment depth of up to 2 m. The short processing and curing times allow for a fast working progress – in the bore holes obtained by means of hollow-core drills or hammer drills optionally. Potential temperatures of -10 °C to +40 °C in the anchoring substrate in accordance with ETA allow a flexible and universal use. Moreover, the FIS RC II is approved for subsequent reinforcement connections with a service life of 100 years. The ETA of the injection mortar permits dimensioning up to fire resistance class R 180. The FIS RC II is available in shuttle cartridges in pack sizes of 360 ml and 825 ml. The matching battery-operated dispensers type FIS DB S Pro and FIS DB SL Pro for the two cartridge sizes complete the product line.
In addition, the Rebar Fix module as part of the Fischer FiXperience software suite provides the user with a reliable and safe program for the dimensioning of subsequent reinforcement connections. The technical field service or the technical hotline are at the disposal of the user in case of any questions. The Fischer academy, furthermore, offers live online seminars and face-to-face seminars as well as e-learning on the topic of subsequent reinforcement connections.
CONTACT
Fischerwerke GmbH & Co. KG
Klaus-Fischer-Str. 1
72178 Waldachtal/Germany
+49 7443 12-0