MBCC GROUP
MastersSphere for new era of air-entrained concrete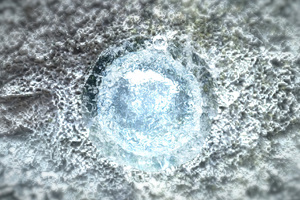 Figure: MBCC Group
MasterSphere enables the production of robust air-entrained concrete with the highest freeze-thaw resistance
Figure: MBCC Group
Master Builders Solutions is launching MasterSphere, according to the supplier, a revolutionary air entraining admixture, in Germany and Switzerland. The innovative technology is based on specially developed superabsorbent polymers (SAP) tailored to concrete applications, enabling the reliable production of robust air-entrained concrete with the highest freeze-thaw resistance. Successful air entrainment to produce durable concrete is often difficult to control. MasterSphere overcomes the uncertainty of conventional air entraining agents by changing the mechanism of action of air entrainment from a chemical to a physical solution.
The air entrainment system is stable, uniformly distributed, and not affected by concrete consistency, raw material variations (e.g., cement, SCM, aggregates), or production parameters, nor by environmental factors (e.g., temperature), and works reliably without interactions with other admixtures. Master Builders Solutions has been a pioneer in the development of air-entraining admixtures for over 90 years and is once again paving the way into a new era of air entraining. For the first time, superabsorbent polymers are being introduced to the construction industry, revolutionizing the process of air entrainment in concrete with the MasterSphere innovation.
Functional pore design
MasterSphere is based on superabsorbent polymers (SAP). SAP have so far been used primarily in the hygiene industry. They are known to absorb and retain liquids, but not release them. MasterSphere is a first in the field of air entrainment because the SAP particles immediately absorb a predefined amount of mixing water and swell to form evenly distributed internal water reservoirs with diameters ranging from 50 to 400 µm. During cement hydration, the MasterSphere particles slowly release the stored water into the surrounding concrete matrix and remain as air-filled voids in the hardened concrete.
"MasterSphere can absorb up to 40 times the particles' own weight in water and impresses with its outstanding physical mode of action, resulting in evenly distributed micro-air voids in the hardened concrete," says Dr. Oliver Mazanec, Head of Marketing DACH at Master Builders Solutions. "What's unique about MasterSphere and its functional pore design is that it reliably and predictably achieves the desired air content with optimal air void size, which helps customers produce frost-resistant concrete even under difficult conditions."
Highest freeze-thaw resistance
The exceptional air-entraining concrete admixture enables the production of frost-resistant concrete of exposure classes XF2 to XF4 from earth-moist to self-compacting consistency. At the same time, the strength reduction (1 to 2 N/mm² per additional vol.% of air voids) commonly known from LP concretes is significantly less pronounced with MasterSphere, i.e. the strengths are higher and more uniform than with comparable LP concretes. In addition, the innovative technology can be used with all cement types according to EN 197 and achieves excellent freeze-thaw resistance even with demanding clinker-efficient CEM II/B, CEM II/C and CEM III cements, which is a milestone on the way to more sustainable construction.  By acting as a water reservoir in fresh concrete, MasterSphere reduces the risk of segregation, bleeding, autogenous shrinkage and cracking, and is also suitable for use in concrete floors with subsequent surface finishing. In addition to excellent performance, the novel technology offers customers even more benefits by reducing cement content, minimizing quality control efforts and rejection rates, and avoiding non-conforming concrete batches.
MasterSphere is a very good choice when maximum freeze-thaw resistance is required and stable air content is difficult to achieve with conventional air entraining agents. The independence from raw materials, mixing and production parameters or external influences makes concrete production more efficient and, according to the manufacturer, clearly sets MasterSphere apart from solutions currently available on the market.