MCT ITALY
Expanding Market Growth and Grand Opening of new
production facility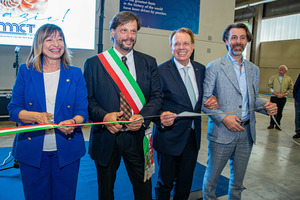 Figure: MCT Italy
Only a few days ago MCT Italy opened a new section of its manufacturing factory, right in picture CEO Andrea Marcantonini
Figure: MCT Italy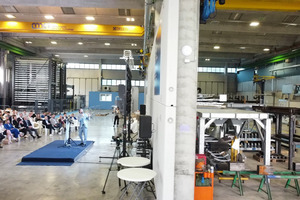 Figure: MCT Italy
CEO Andrea Marcantonini welcomed the numerous guests at the inauguration ceremony
Figure: MCT Italy
There is lots of excitement at MCT Italy: only a few weeks ago the supplier opened a new section of its manufacturing factory which allows to speed up production times, execute total control over processes and improve quality.
"An important and courageous decision was taken after the extremely challenging period we all endured as we were first impacted by the effects of the global pandemic and then by unprecedented price increases of raw materials. This coupled with political instability deeply affected all of us", said Andrea Marcantonini, CEO of MCT Italy.
Despite all these challenges the company has realized growth and success in terms of Productivity, Export and International presence. The American subsidiary continues to flourish, and MCT Italy continues to expand with the recent opening of the new branch in North Africa. Throughout this growth the focus has been to innovate and improve.
New production facility
With a total investment of over 3 million euros, the new facilities occupy 4.000 square meters and was built in less than one year. The new construction is eco-friendly, thanks to solar panels covering the roof, with a total capacity of 400kW, and the parking lot is equipped with electric charging terminals. 
In addition to product management, research and development, machining and assembly, the brand-new site will:
increase the production capacity over 40%;
consolidate all operations into one location;
improve the quality of finished elements;
lower operation costs;
alleviate potential supply chain issues.
Investments in the new factory to name a few include:
New shot-blast, magnetic paint spraying and powder coating facilities for a long-lasting finish;
High-speed fiber laser-cutter which cuts large quantities of steel with precision;
Latest technology of steel bending equipment;
12 additional welding stations.
Setting goals
"The goal is to realise the most of our carpentry production and semi-finished products within the company. This investment allows us to use innovative and eco sustainable technology machines to achieve a better quality of the final product and to meet deliveries' deadlines", explained Andrea Marcantonini.
Words of praise are arrived from the authorities, first of all the Italian Minister for Foreign Affairs and of the International Cooperation, Antonio Tajani, that sent his greetings and congratulations to the company via video call.
Also Umbria Region President Mrs. Donatella Tesei, had words of appreciation for our company. "Such scale of investments play a very important role because they largely contribute at the growth of the industrial network in our Region" said the President Tesei.
CONTACT
MCT Italy Srl
Via Perugia 105
06084 Bettona/Italy
+39 0759 8855 1