UNITECHNIK SYSTEMS
Unitechnik celebrates 50th anniversary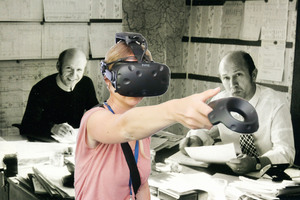 Figure: Unitechnik Systems
Unitechnik is celebrating its 50th anniversary and is looking back on a company history marked by numerous technological breakthroughs
Figure: Unitechnik Systems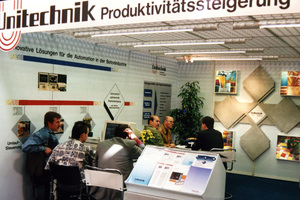 Figure: Unitechnik Systems
From individual solution to product: at bauma 1995, Unitechnik presented its master computer to the international public
Figure: Unitechnik Systems
Cause for joy at Unitechnik: the expert for automation solutions is celebrating its 50th anniversary. The engineering office opened by the two company founders, Bernd Cieplik and Heinz Poppek, in 1971 has developed into a family-owned business with a staff of 300 and subsidiaries in Wiehl, Eisenhüttenstadt and Dubai. Unitechnik has been active in the precast concrete industry for more than 30 years.
From designing and manufacturing electrical control systems to paperless, automated production for precast concrete plants: in its 50-year company history, Unitechnik has continuously expanded its product and service portfolio. The company has been active in the precast concrete industry since the end of the 1980s. The construction boom required an ever-increasing number of prefabricated concrete elements for individually designed buildings. For the engineers at Unitechnik, the task at that time was to produce CAD-designed elements in an automated process by means of robot technology. The introduction of a manufacturer-independent interface – the so-called Unitechnik CAD-CAM interface – for the exchange of information between CAD, process management system and control systems led to free competition at the time, accelerating innovation in the industry.
Unitechnik supports digital transformation at the plants
With the UniCAM master computer and innovative automation solutions, Unitechnik is an integral part of the precast concrete industry even today. The company supports digital transformation at the manufacturing facilities with UniCAM.10, the third generation of the tried-and-tested master computer: large screens have replaced paper; laser projectors and photo documentation are integrated features; the system is operated by means of a tablet. Cycle time homogenization increases productivity and optimizes production by means of the digital twin.
For Unitechnik, one thing is certain: due to the booming construction industry worldwide, the technology will continue to advance in coming years. The company's aspiration is to play an active part in this development.
CONTACT
Unitechnik Systems GmbH
Fritz-Kotz-Str. 14
51674 Wiehl/Germany
Wolfgang Cieplik
+49 2261 987-208