CSG ENGINEERING
Technical Mission to Italy 2017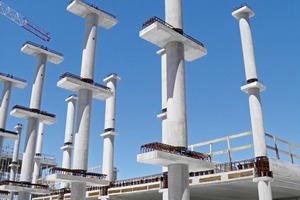 Figure: CSG Engineering
The participants in the "Technical Mission" will learn about state-of-the-art technologies in precast concrete production
Figure: CSG Engineering
This year's "Technical Mission to Italy" offers yet another excellent opportunity for experts from around the globe to cast a glance behind the doors of Italian precast producers and Italian manufacturers of machinery and other vendor components. This year, the "Technical Mission" will take place from October 7 to 13.
The participants will meet in Milan. From there, they will continue to Venice where, in a first leg of the journey, sightseeing is on the agenda. After acclimatizing, the participants will visit precast producers Cestaro and Bellitalia on the third day – the focus being on precast elements for civil engineering, such as pipes and manholes, as well as precast elements for garden, landscape and infrastructure construction, such as outdoor furniture and solutions for landscape design. In addition, the program will include a visit to the production plant of machine manufacturer Colle in Lentiai.
Technical documentation included
On the fourth day, the participants will continue to Brixen to the headquarters of Progress, the leading manufacturer of production machines and production lines for the manufacture of structural precast concrete elements. The first destination on day five will be Forli. The participants will visit the production plant of Querzoli where production takes place in a largely automated process using plant technology from Marcantonini. After that, the participants will continue to Fiorenzuola d'Arda where "Technical Mission" organizer CSG Engineering will present its work and, the LegoCAD software developed in-house.
The final day of the round trip will include visits to MC Prefabbricato north of Milan and to ELSA, the European Laboratory for Structural Assessment, a leading European institution which, among other things, collects data that are incorporated into norms and standards.
Participants can register directly with organizer CSG Engineering (see contact details below). The participation fee includes bus transfer during the entire round trip, hotel accommodation and board; the technical documentation is also included in the fee.