Successful with Lifting Technology in Special Design
Spreader Beam for Mobile Homes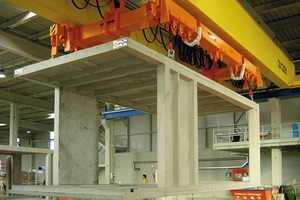 [Photo:/Foto:PFEIFER]
Fig. 1
Spreader beam with two point crane attachment for mobile home container elements.
[Photo:/Foto:PFEIFER]
The Pfeifer group specializes with the division Lifting Technology in handling and hoisting bulky and heavy loads. The product programme includes spreader solutions especially for the building industry such as equalizing spreader beams which are used for the transport of concrete precast elements or brick wall elements. Equalizing spreader beams provide an automatic height compensation and equal load distribution of all attachment points for safe and gentle transport of the precast elements.
Pfeifer engineers developed a special spreader beam for a Spanish producer of prefabricated houses in the form of mobile containers. The main item of the containers is a rectangular precast element (Fig. 1), which is lifted out of the mold for further processing. Therefore anchor systems including attachment points for lifting processes are integrated in the precast element.
 Precast elements vary in dimensions and weight according to the prefabricated house model and are up to 12 meters long at the maximum and up to 4 meters wide, with a weight of 45 to. The special challenge was to design a...