Increasing operational safety and productivity
Turnover spreader beams turning modular units for 14 years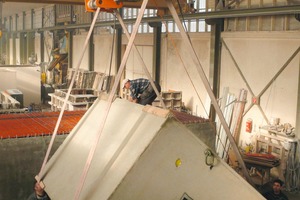 Bilder: Pfeifer Holding GmbH & Co. KG.
Fig. 1
Turning spreader beam during a turning process in 2010.
Bilder: Pfeifer Holding GmbH & Co. KG.
Pfeifer Seil- und Hebetechnik GmbH based in Memmingen (Germany) with the business unit Lifting Technology is specialized in manufacturing load handling devices for cranes. This includes also special turnover spreader beams for turning loads of inherent stability around the longitudinal axis.

Being safety-relevant equipment, load handling devices are subject to high safety requirements. The load handling devices of Pfeifer do not only comply with the highest standards but are also characterized by particularly high reliability and long service life.
 This, for example, proves a turnover spreader beam of Pfeifer that has been used for more than 14 years. This spreader beam was manufactured in 1996 by order of Ernst Wirth GmbH, Herbrechtingen (Germany), and has been used for turning precast concrete elements like modular units. The modular units having a maximum weight of 16 tons are...