Lightweight-aggregate concrete addition for
classicistic museum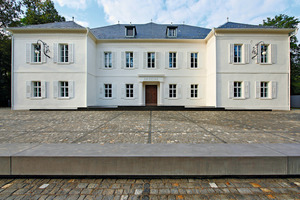 Photos: gäbele&raufer.architekten,BDA
Classicistic beauty: The museum, built in 1841, following decades of use as a cinema theater, is today, as Museum Biedermann, once more a site of art
Photos: gäbele&raufer.architekten,BDA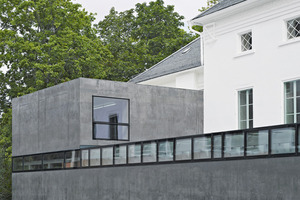 The old existing building was rehabilitated and supplemented on the rear by a new annex of architectural colored black Liapor lightweight concrete

In Donaueschingen, Germany, the business and art-collec­tor couple Margit und Lutz Bie­der­mann commissioned the re­ha­­bi­litation of a classicistic mu­seum building on the River Bri­gach in southwest Germany and ex­ten­d-
ed it by adding a mo­no­li­thic annex consisting of light­weight concrete colored black with Lia­por and featuring an archi­tec-­
tu­ral concrete finish. They crea­ted a composition of old and new that captivates the viewer through its shape, mate­ri­al, and monolithic construction.

The classicistic museum buil­d-
ing was built in 1841 by the Do-naueschingen Museum Socie­ty. A...