Liapor
Spaces of lightweight concrete to discover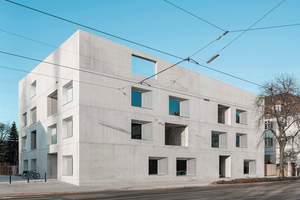 Figure: Atelier Altenkirch
The fair-faced concrete look and the randomly arranged windows and loggias give the KinderUniversum center a distintinctive face
Figure: Atelier Altenkirch
A plain ashlar of unpretentious color that exudes both massiveness and compactness – one of the basic thoughts of the Berlin architect José Gutiérrez Marquez for the design of the "KinderUniversum" daycare center in Karlsruhe, Germany. It was of equal importance, however, to give the children a much free space for playing, learning, and discovery. The newbuild, which provides for 115 childcare places, was designed as a four-story monolithic cube-shaped building with a bright fair-faced concrete look.
800 m³ LC 12/13 lightweight concrete
The building was erected with approximately 800 m³ of LC...