Cost Saving
Façade and roof connection systems in hall construction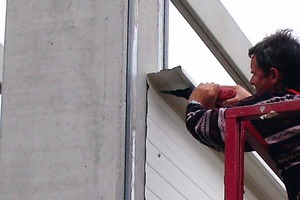 Fotos:  Deutsche Kahneisen Gesellschaft mbH (DKG)
Fig. 2
Jordahl
®
profiled metal sheet channel JTB with national technical approval. Already in the precast concrete factory the fastening system is set in concrete to be flush with the surface. The trapezoidal sheet metal of the Jordahl
®
channels is mounted with drill screws.
Abb. 1
Jordahl
®
Trapezblechbefestigungsschienen JTB mit allgemeiner bauaufsichtlicher Zulassung. Das Befestigungssystem wird bereits im Fertigteilwerk oberflächenbündig einbetoniert. Die Montage der Trapezbleche an den Jordahl
®
Schienen erfolgt mit Bohrschrauben.
Fotos:  Deutsche Kahneisen Gesellschaft mbH (DKG)
 Trapezoidal sheet metal systems, cassettes and sandwich elements enable to use functional and architectural versatile solutions for wall and ceiling in hall construction. For this purpose, profiled metal sheet channels have turned out to be an efficient and reliable fastening element. They enable to use manpower and material in a cost saving way when assembling walls and ceilings.

Deutsche Kahneisen Gesellschaft mbH (DKG) offers the Jordahl®  profiled metal sheet channel Jtb with national technical approval (approval number: Z-21.4-161). The three meter long channels offered by the Berlin-based company are supplied in two standard versions: channels with an anchor spacing of 450 millimeters can be cut in half in the middle and are therefore cost-saving too; channels with an anchor spacing of 150 millimeters can be cut anywhere.

The anchors of conventional fastening channel systems are often difficult to insert in prefabricated reinforcement cages. This profiled metal...