Two ELKOMIX-135 Quick Master for Shopping Mall Project in Baghdad
14.05.2020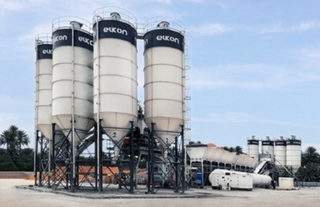 Figure: Elkon

The Jordanian-Iraqi company started to use 2 units of ELKOMIX-135 Quick Master Compact Concrete Batching Plant for their shopping mall project in Baghdad. The two concrete batching plants were recently set up during the hard times of coronavirus outbreak.
The design for Iraq mall project located in Baghdad shall be a unique concept for shopping and entertainment in the region. The project area is approximately 500.000 m2 , adjacent to the mall body, a fountain were designed with area of 25.000 m2 surrounded by 5 star restaurants. In addition to that, the project also accommodates luxurious tower apartments with area of 80.000 m2 over looking to the fountain and connected to the mall body.
ELKON met the needs of the project thanks to its ELKOMIX-135 Compact Plant equipped with high-efficient 5000/3330 l. Twinshaft mixer which provides up to 140 m3 concrete per hour. Having 4x100 tons and 5x100 tons cement silo respectively, 2 concrete plants has 900 tons cement storage capacity in total to continue day and night non-stop concrete production smoothly.
CONTACT
Elkon
Gazeteciler Sitesi,
Dergiler Sokak No:13 Esentepe
Istanbul/Turkey
+90 212 288 9633