bauma 2022: Extreme loads? No problem with Combilift
06.09.2022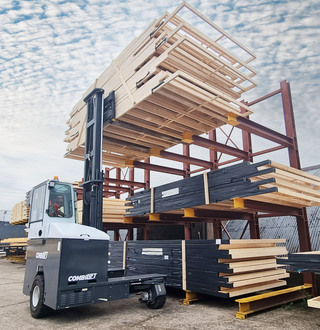 Figure: Combilift
The Irish manufacturer Combilift is globally acknowledged as being the go-to partner for innovative solutions for handling diverse loads weighing from just 1t up to over 100t. Its products are exported to over 85 countries and are prized for their robust, long life operation in tough applications and in all weather conditions.
Combilift at bauma 2022
Focus of the exhibits at bauma 2022 is on the "heavyweights" from the product range, which include the Combi-SC Straddle Carriers and the Combi-MG mobile gantries. These machines can address the challenges of lifting and moving extreme products around production facilities, warehouses or yards, especially for sectors such as the concrete, steel, modular construction and recycling industries.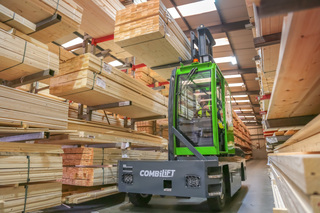 Figure: Combilift
A key advantage of the SC and MG product ranges, all built to individual customer specifications, is the very low axle load compared to heavy-duty forklifts, reach stackers or mobile cranes. This allows for more cost-effective operation on rough and uneven terrain without the need for special and expensive ground reinforcement. Other advantages include low energy consumption, excellent all-round visibility on the models with a driver's cab and exceptional manoeuvrability in confined spaces.
Extensive range of electric forklifts
In line with the growing demand for electric powered equipment, Combilift continues to expand its now extensive range of electric forklifts. In the last 12 months alone, 3 new electric models have been launched; the 5t capacity Combi-XLE, the Combi-MR4 with unrivalled manoeuvrability and the Combi-FSE 4-wheel sideloader offer a combination of powerful performance and quiet, emission-free operation. Visitors to the stand will be able to see first-hand the capabilities of some of these models at the show.
CONTACT
Combilift Ltd