Kalmar
Heavy-duty electric forklifts are the current industry trend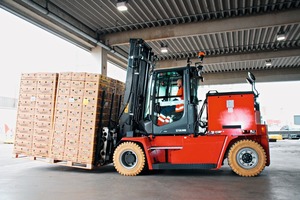 Figure: Kalmar
Kalmar ECG90-6LS with a short wheel base of 2,600 mm and an 80-Volt 550-Ah battery with quadruple pallet clamps for handling fruit
Figure: Kalmar
The new ECG electric forklift series from Kalmar is manufactured in Sweden and, with its three models, covers a performance range from 5,000 kg/600 mm load center up to 9,000 kg/600 mm load center. Of special interest is the forklift with front overhang of the 8-ton class with load centers ranging from 600, 900 to as much as 1,100 mm – a unique selling point for Kalmar.
Three wheelbases from 2,100 to 2,800 mm are available, depending on the load class. Two drive motors of 11 kW and one 42-kW hoisting motor make clear that Kalmar believes in high performance. The forklift with wide front overhang with a width from only 1,550 to 2,000 mm were optimized for jobs with accessory equipment, they make available a pressure of at least 140 bar and oil delivery quantity of up to 155 l/min.
A 180° rotatable seat from which all control elements can be moved along with the turning wheel is an important option.