PEIKKO
"Construction goes circular" event was a great success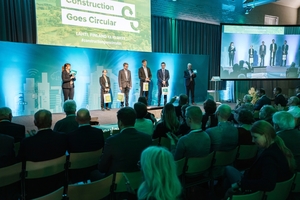 Figure: Peikko
"Construction goes circular" event in Lahti, Finland, was a great success, here the keynote speakers
Figure: Peikko
In the middle of October 2022 a conference of "Construction Goes Circular" was organized by Peikko Group, together with partners Iscowa, City of Lahti and Green Building Council Finland. Some 180 guests were inspired by eight keynote speakers: Sirpa Pietikäinen, Lars Ostenfeld Riemann,  Antti Ruuska, Ján Bujnák, Kasper Guldager Jensen, Sabine Barth, Rogier van de Weijer and Niels De Temmerman, who described both the urgency of acting today as well as showed some practical solutions for circular economy in the construction industry. The atmosphere of the event was excellent with lots of mingling, talking and laughing – people enjoyed meeting new persons and interacting with each other.
Some key takeaways from the event – construction goes circular:
is a must in the future – legislation is driving for this;
is technically possible – already today;
requires a new kind of thinking within the construction industry;
buildings need to be designed to last with versatile usability and with materials that can be reused;
waste is a new business opportunity.
Podcasts were also recorded during the event with all the speakers. First episodes of the Construction Goes Circular podcast are now published on Amazon Music, Anchor, Google Podcasts and Spotify. All eight episodes were published once a week until the end of 2022.
Construction Goes Circular event will be also organized next year, interested parties can mark their calendars for October 11th, 2023.
CONTACT
Peikko Group Corporation
P.O. Box 104
Voimakatu 3
15101 Lahti/Finland
+358 20 707 511