WBR ROHR- UND BAUELEMENTE
Bond strength of sheathing pipes and cavity pipes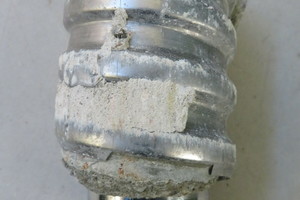 Figure: wbr
Cross-section of the threaded bar in installed state – load transfer under tensile stress
Figure: wbr
The wbr Rohr- and Bauelemente GmbH is a technologically leading supplier of profiled pipes for the application in classical post-tensioning, in bridge construction as well as in anchoring technology used for both precast elements and at the construction site. Apart from the economic advantages in the production of sheathing pipes and cavity pipes, respectively, and the associated cost-effective solution, installation tolerances can be better adjusted subsequently.
  An advantage of the pipes made by wbr is that a friction-locked connection can be made, with absorbing corresponding tensile forces, due to a relatively strong profiling. In order to substantiate this theory here, wbr has investigations carried out at the Material Testing Institute of the University of Stuttgart. These representative tests using circular pipes of DN 60+100 and profiled rectangular pipes revealed that the values achieved are much higher than determined by calculation so far. The average design value of the bond stress is between 4 and 6 N/mm².
More information will follow in a future issue of BFT Magazine.
CONTACT
WBR Rohr- und Bauelemente GmbH
Otto-Hahn-Str. 17
75248 Ölbronn-Dürrn/Germany
+49 7237 485191-0