LANXESS
Transparent eco-balance for synthetic iron oxide pigments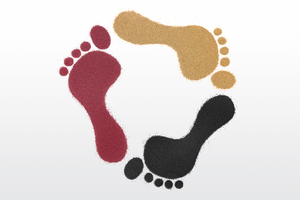 Figure: Lanxess
Lanxess offers EPDs for synthetic iron oxide pigments as verified Environmental Product Declarations for climate- and resource-preserving building
Figure: Lanxess
Lanxess, the specialty chemicals group, is the first manufacturer of synthetic iron oxide pigments to offer verified Environmental Product Declarations (EDP) for selected product groups. Together with such an EPD, Lanxess provides comprehensive information on the environmental impacts of its pigments from cradle to gate. The information is based on the international ISO 14025 standard as well as on the European standard EN 15804 for building products and building services of any kind.
"The publication of EPDs is an expression of our commitment to maximum sustainability standards in the pigment industry," says Michael Ertl, Head of the Inorganic Pigments business unit (IPG) at Lanxess. Our iron oxide pigments from the time-tested Bayferrox brand are used for coloring building products, as well as in colors and synthetics," he adds.
Tested according to international standards
An EPD describes construction materials, products and components with a view to their environmental impacts. The assessment is based on eco-balances as well as on the respective functional and technical properties. The Environmental Product Declarations for Bayferrox pigments from Lanxess are tested by the Institut für Bauen und Umwelt e.V. – the German Institute for Construction and Environment (IBU) – according to international standards.
Providing the prerequisites for sustainable buildings
Sustainable building is a core mission along the road to a climate- and resource-preserving future. For that reason, Environmental Product Declarations are increasingly sought in the construction sector and are among the essential prerequisites for sustainability certification of buildings. "It is therefore particularly gratifying that Lanxess, a manufacturer of primary materials, aims for this transparency on the product level, which enables its customers in the actual building products industry to provide notably more precise statements on the environmental impacts of their products," says IBU Managing Director Dr. Alexander Röder. EPDs for building materials can help to collect plus points for building certification.
At this time, consideration is generally given as to whether the building material used itself has a certificate. "Raw materials with verified EDP in production – as with our brand Bayferrox – can be considered in assessing the eco-balance of the building material, with positive influence," says Holger Wendt, Head of the Construction Market segment at IPG. EPDs, moreover, provide transparency on the environmental profile of the pigments, offering in this way a sound basis for comparing iron oxide products of various raw materials suppliers.
Sustainability is an issue for the boss
A comparison is worthwhile, because the manufacturing process of synthetic iron oxide pigments is energy-intensive. For this reason, Lanxess has in past decades consistently invested in enhancing the CO2 footprint of its pigments by implementing sustainable production processes in its production locations. Ertl explains: "By EDP verification of our core products, we make this commitment visible for our customers within eco-balancing." Lanxess has linked the topic of sustainability directly to its Executive Board. This comprises the sectors climate protection and energy, health and environmental protection, products and circular value chains, employees and corporate culture as well as transparent reporting on sustainability performance. In the Sustainability Committee, newly created in 2021, the members of the board decide jointly on central sustainability projects.
"We are very much aware of our social responsibility, which means that sustainability is a guiding principle of our action. This, moreover, is increasingly becoming a competitive advantage – with relevance to customers, talents and the capital market. With the adjustment of our incentive system and of our structures, we are embedding sustainability even more firmly in our company," explains Lanxess Chairman of the Board Matthias Zachert.
CONTACT
Lanxess Deutschland GmbH
Kennedyplatz 1
50569 Cologne/Germany
+49 221 8885-0