TOPWERK GROUP
Topwerk Group establishes Topwerk India in New Delhi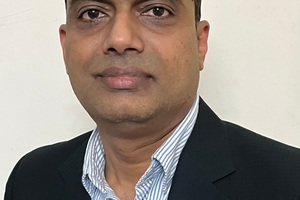 Figure: Topwerk Group
Sachin Shetty will be Head of Topwerk India – Operation and Sales, responsible for the Hess Group
Figure: Topwerk Group
The Topwerk Group establishes Topwerk India in New Delhi as a local sales and service hub effective as of November 1, 2021. As the third-largest metropolitan region in the world, New Delhi is the ideal location to ensure the vicinity to the clients and strengthen the customer services in the Indian market. With the new location, the group is aiming for optimal local customer proximity and a stronger presence in the Indian market, also including Bangladesh, Sri Lanka and Nepal. Mr. Sachin Shetty and Mr. Rajesh Jha form the new dual leadership team of Topwerk India. Both manage the business of Topwerk India together as of November 1, 2021.
Important Indian market is developing quickly
Sachin Shetty will be responsible for Operation & Sales for the Hess Group. With over 19 years of experience in managerial and technical positions in mechanical engineering, Mr. Shetty is a true machinery industry expert who also adds deep operational expertise with global exposure. "I am excited to use my knowledge and experience of mechanical engineering not only for Hess Group but for the entire range of product houses to strengthen the Topwerk Group in India and subcontinent" explains Sachin Shetty, of his ambitions for the entire scope of Topwerk India.
Mr. Rajesh Jha who took over Sales & Market Development at Topwerk India in July will represent the companies SR Schindler, Prinzing Pfeiffer, and Hess AAC Systems on the Indian market. He has over 21 years of experience in sales, marketing and business development in the building, construction & infrastructure industry. Robert Gruss, CEO of the Topwerk Group, explains the establishment of the office in India as an essential step in the group's global growth strategy: "The Indian market is very important to us and is developing quickly. With Topwerk India, we will intensify the contact with existing and new customers and will be able to respond quickly and efficiently to the needs of the local market. With Sachin Shetty and Rajesh Jha, we have attracted a very experienced professional team, who not only bring their technical expertise on machines from an operational perspective but also have good knowledge of the Indian market."
CONTACT
Topwerk GmbH
Freier-Grund-Straße 123
57299 Burbach-Wahlbach/Germany
+49 2736 497-60
UG 6, Upper Ground
39 Daryacha Complex
Hauz Khas Village
New Delhi 110016/India
Sachin Shetty: +91- 6364722729
Rajesh Jha: +91-9311911530