Elematic/Aquarius Engineers
Cooperation in batching and mixing plants in India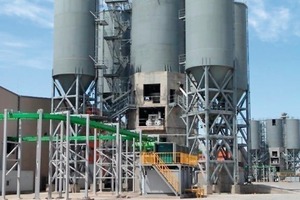 Figure: Elematic
Thanks to its compact size, the installation of the new tower plant uses only a fairly limited land area, thus resulting in considerable bringing clear savings in land costs
Figure: Elematic
Elematic Oy, a Finnish world-leading manufacturer of precast concrete plants and production lines for walls, floors, frames and foundations, and Aquarius Engineers Pvt. Ltd., an India-based leading manufacturer of concrete batching and mixing plants, concrete pumps and boom pumps, are delighted to announce a cooperation agreement on the development and supply of batching and mixing plants for the precast industry. In the first phase, the supply agreement covers the Indian market only.
Within the announced agreement, Elematic will provide their state-of-the-art technology to Aquarius for manufacturing of twin-shaft mixers and tower batching plants. Furthermore, Elematic includes Aquarius' batching and mixing plants into their offering for the Indian market, and later on, for selected markets globally.
New compact tower plant
The new tower plant solution will offer great value to any precast factory or ready-mix company working in the fast- growing Indian metropolitan cities. Thanks to its compact size, the plant installation uses only a fairly limited land area, thus resulting inbringing considerable clear savings in land costs.
In the past few years, Elematic has put a significant effort in developing their capacity to serve the Indian precast customers. The company has established a sales and services unit in New Delhi as well as recently opened their own local manufacturing unit focusing on molds.
Aquarius has more than two decades of expertise in concrete equipment. In addition to the two manufacturing units baseds in India, Aquarius operates ahave well-established pPan-India service network to add to their credentials.