Halfen
Thermal insulation and fire protection in one element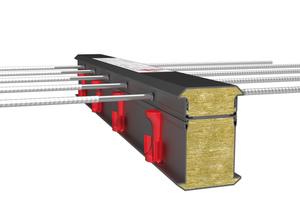 Figure: Halfen
Halfen HIT Iso elements offer maximum safety and have an insulation core of noncombustible mineral wool
Figure: Halfen
Halfen HIT Iso elements for thermal separation of cantilevered structural members, such as balconies, attic levels or brackets, ensure not only optimal thermal insulation; due to an insulation body of mineral wool, they also meet the most stringent requirements for fire protection. With EPS-based composite thermal insulation systems, there will be no need for additional otherwise required provisions for the continuous fire barriers at balconies or for exterior corridors.
Integration into fire barriers
Halfen balcony protections HIT-HP and HIT-SP are manufactured exclusively with non-combustible mineral wool of fire protection class A1. Due to the special shape of the insulation body, these balcony connections are classified in fire resistance class REI 120 in accordance with DIN EN 13501 and F120-AB in accordance with DIN 410. These connections, used as part of the required fire protection measures are optimally suited, especially for thermally insulated façades with polystyrene. Around balconies or loggias, the HIT Iso elements can assume the function of fire barriers. Offsets in the fire barrier or additional measures with fire-protection plates in these areas are not needed.
Thermal insulation in two varieties
HIT Iso elements are suitable not only for balconies, but also for thermally separated connections for walls, parapets, brackets, loggias or attics. HIT Iso elements are available in insulation thicknesses of 80 mm or 120 mm. The reduced cross section of the tension members, the lower penetration points and the continuous insulation material used effectively reduce thermal bridges. HIT Iso elements allow for relative deformation of the connecting components to the building, enabling in this way thermal expansion without causing cracking.
Installation system through double-symmetrical supports
Owing to the special shape of the new double-symmetrical CBS supports, HIT Iso elements are symmetric for cantilevered balconies (HIT-HP/SP MVX)  – that is to say  they can be used independent of the direction of floors or balconies. In this way, installation errors are prevented. And, last but not least, cutting waste optimization in the HIT planning software ensures especially efficient preparation and quick installation.