ECHO PRECAST ENGINEERING
Thailand: Slipformer S-Liner installed at Chonburi Concrete Products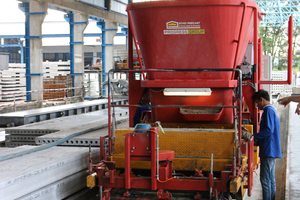 Figure: Progress Group
Chonburi Concrete Products (PCL) Thailand uses the Slipformer S-Liner in their hollow-core production, mainly for flooring applications and produced with a thickness from 8 to 25 cm and a length variation form 1 to 10 m
Figure: Progress Group
Chonburi Concrete Products PCL (CCP) Thailand, confides in the Slipformer S-Liner of Echo Precast Engineering, one of the seven companies belonging to the Progress Group a leading full-range supplier to the precast industry, for their production of hollow core slabs.
CCP manufactures and distributes concrete products and ready mixed concrete in Chonburi, Thailand. It also distributes construction materials and home decoration equipment and manufactures and distributes autoclaved aerated concreted blocks and concrete blocks as well as provides transport vehicle rental and property leasing services. In the past few years the company has invested in developing the manufacturing capability and enhanced new innovative products, which are accepted by the public sector as well as the private sector as well as contractors in Thailand and other countries.
Versatile, flexible production requirements
With the new Slipformer S-Liner they are producing hollow core slabs, which are mainly used for flooring applications and are produced with a thickness of 8, 10, 12, 15, 20 and 25 cm, 1.2 m width and a length variation from 1 to 10 m. The precast elements are mainly used for factories, large buildings, hospitals, hotels, schools and also residential construction.
The new machine from Echo Precast Engineering is the ideal solution for versatile, flexible production requirements. Beside standard hollow core slabs the machine can be used for a wide range of precast elements such as beams, lintels, foundation piles, gutters and prefabricated ceilings that include insulation as well as heating- or cooling systems. Due to the specific construction of the slipformer and the use of zero-slump concrete the S-Liner is exceptionally cost-efficient and easy to use and maintain.