CSG ENGINEERING
Technical Mission to Italy 2019 and USA 2020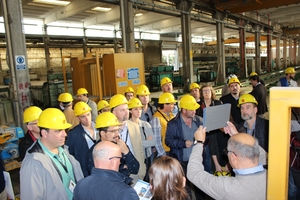 Figure: BFT International
Along with cultural highlights, several precast factory visits are on the agenda of the Technical Mission to Italy
Figure: BFT International
The Technical Mission to Italy (October 13-19), at the 7th edition, to look at the italian precast industry, which is one of the most advanced in the world by type and quality of products, production automation, effectiveness of the whole business process.
The Technical Mission to US - 1st edition – (March 1-6, 2020), at the same time of the PCI Convention / Precast Show, to give non-US precast professionals the opportunity to enter the US precast concrete world, by visiting precast plants in US and attending the PCI Convention / Precast Show.
Both are interesting for precast professionals from all over the world to look at different ways to do precast, learn new innovations. CSG Engineering - the organizing company - aims of creating a network of precast professionals from different Countries, to exchange information, experience, business opportunities and friendly relationships.