TOPWERK GROUP
New production facility in Tula/Russia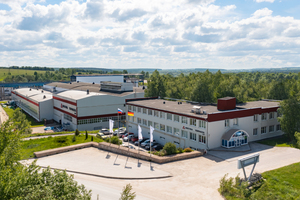 Figure: Topwerk Group
Topwerk Group's subsidiary Topwerk Rus expands its production capacity in Russia as of 1st January 2022
Figure: Topwerk Group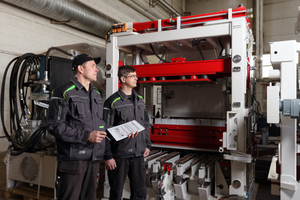 Figure: Topwerk Group
The first production facility where concrete block lines RH 400 is being produced
Figure: Topwerk Group
Topwerk Group's subsidiary Topwerk Rus expands its production capacity in Russia as of 1st January 2022. In addition to the completely newly built production facility, also an existing building was extended. The production area is doubled, and now the important space is provided to meet the constantly growing demands of the CIS market. Topwerk Rus will also grow its specialist- and production team along with the growth initiative.
The company is consequently following the global growth strategy of the Topwerk Group. With more than 1,080 square meters of new production area, the expansion of the existing machinery, and an enlarged team, it will be possible to significantly increase the output of Topwerk Rus in the future – including additionally localized products and local production of spare parts of the Group.
Topwerk Rus has been the regional organization of Hess Group since 2006. It started as a sales office with a small team offering various machines in Russia. The customer base was continuously expanded to all CIS countries. In line with the constant development of the market, Topwerk Rus has put an important focus in particular on the customer benefits in terms of service. In addition to leading performance and efficiency of the machines, a local automation offering (upgrades), highly qualified service and support are an important part of the company's success, states Alexander Sigalov, General Director of Topwerk Rus.
Leading technology partner in the Russian concrete block machinery market
In 2016 Topwerk Rus launched its first production facility. The concrete block line RH 400 is produced there, various other machine types are currently in the process of localization. Today Topwerk Rus is an utmost reliable manufacturer and supplier of efficient machinery for the concrete industry, provides local automation upgrade solutions delivers equipment, molds, and spare parts for all group members of Topwerk Group in Russia and CIS countries. The further development and expansion of the production area are thus an important element in the company's future strategy. End of 2021 Topwerk Rus is a leading technology partner in the demanding concrete block machinery market in Russia.
Alexander Sigalov, General Director of Topwerk Rus, sees great potential in expanding production: "I am so glad that we are growing together with Topwerk Group and now significantly expanding our production capacities in Topwerk Rus. Using a new strategy for localization of equipment, we plan to strengthen our positions not only in the market of small equipment for concrete blocks and pavers but also in the markets of production machines for concrete pipes, manholes & precast concrete elements, as well as surface treatment with the technologies of Prinzing Pfeiffer and SR Schindler."
CONTACT
Topwerk GmbH
Freier-Grund-Straße 123
57299 Burbach-Wahlbach/Germany
+49 2736 497-60
OOO Topwerk Rus
23, d. Malinovka, Leninskij Rayon
301132 Tula Oblast/Russia
+7 4872 510630