Curetec
More than 300 reference projects worldwide in only six years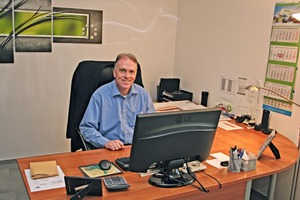 Figure: BFT International
Sales Director Stadtsholte is pleased about more than 300 CureTec systems that were placed into operation within only six years after founding the company
Figure: BFT International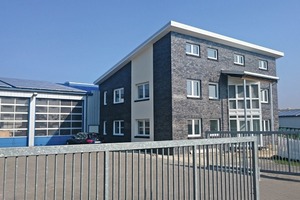 Figure: Curetec
Thanks to the good order situation, both the production hall and the office building were expanded last year
Figure: Curetec
CureTec Energietechnik GmbH und Co. KG, located in Vrees in northern Germany was founded in early 2010 and has since then put more than 300 plants into operation worldwide. The core competence of the internationally active machine-construction company in the building-materials sector is improved and accelerated hardening of concrete products.
CureTec, with a comprehensive portfolio for complete special systems, is one of the leading technology suppliers in its sector. The systems developed and built by this German company, located in northern Germany, contribute to controlled hardening and accordingly to the more cost-efficient manufacture of high-quality concrete products.
Principle of controlled ­hardening
Effective control of temperature and moisture under monitored conditions accelerates and optimizes the hardening process of fresh concrete products. At temperatures between 5 °C and the freezing point, the hydration process in concrete is brought nearly to a halt, and concrete hardening proceeds slowly. However, addition of heat to the concrete accelerates the hardening process.
The water required for the reaction, however, may by no means be withdrawn from cement as binder, so as not to interfere with the necessary hydration. If this process takes place under controlled conditions – i.e., with the proper amount of water and at the right temperature – the process can be controlled in accordance with the individual product.
Under "normal" hardening conditions, only around 80 % of the added cement will react in the concrete. When, however, the water required for the hydration process is continuously supplied from outside, much more cement reacts in the concrete – with added cement savings of up to 10 %. The controlled supply of heat to the hydration process also accelerates the hydration process.
In addition to the described cement savings, there are other benefits: e.g., accelerated hardening (early strength) – and, as a result, shorter usage of the concrete form and reduced storage requirements, savings in color pigments (due to the reduced cement content), uniform product qualities in summer and winter, uniform colors, higher-quality products, harder corners and edges (less spalling), and improved abrasion resistance. Apart from these benefits, secondary processes such as grinding, blasting, tumbling, and breakage are possible in-line.
Comprehensive product range and references
Thanks to its broad product range – consisting of low-pressure steam generators, hot air generators, AllCure- and RadCure curing systems, ConCure heaters, CureFog moisturizing systems, CureFlow air circulation systems, AggTherm aggregate heaters, container systems, test containers, curing chambers, and tent solutions – CureTec has been able to take part in impressive reference projects worldwide in only six years. In 2015, for example, a complete rack transporter system (16 rows) with chamber cladding, rolling shutter doors and an ALLCure system was delivered to Watkins in Omaha, Nebraska, USA and installed and commissioned in only six weeks.
"With a total of around 300 installed plants, we have for example equipped precast plants in Russia and White Russia, concrete block plants in the USA and Canada, paving block and sidewalk paver plants in Poland and the Netherlands, railroad sleeper plants in Mexico and Turkey, a concrete step plant in Poland, and hollowcore production facilities in Brazil and Belgium," as CureTec Sales Director Manfred Stadts-holte, shareholder of the company and responsible for worldwide marketing is pleased to report "In addition, we have delivered aggregate heaters to Eastern Europe and pipeline encasing weights for a Greek customer."
 "Thanks to the good order situation, and by now a workforce of 15, we have been able to expand both our production hall and our office building. This is the only way to make sure that the quality of our products and our service can meet our high standards," adds Dirk Flatken. "Additional and unusual large-scale projects in Murmansk, Russia, and Druten in the Netherlands will be completed shortly or are already finished, respectively. We will separately report more on these projects soon."