CURETEC
Company develops world's first self-learning curing system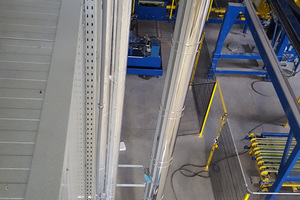 Figure: CureTec
The latest addition to the CureTec range is a modification of the tried-and-tested AllCure system, to which a self-learning capability was added
Figure: CureTec
Since 2010, CureTec Energie-technik GmbH & Co. KG based in Vrees, Germany, has been supplying curing systems to the concrete industry. To date, the company has installed over 400 systems worldwide that cover an exceedingly wide variety of concrete products.
CureTec places great emphasis on continuously improving its systems so as to achieve the best results for the products of its customer base, thus ensuring continued customer satisfaction.
Modified AllCure system
The latest addition to the CureTec range is a modification of the tried-and-tested AllCure system, to which a self-learning capability was added.
The conventional AllCure system enables independent control of temperature and humidity levels in the curing chamber. The new AllCure 2.0 system ensures fully automated detection of deviating curing parameters.
This smart control unit is suitable for installation in big-chamber systems. The system detects heat build-up in the rack and compensates it by activating defined ventilation profiles, adjusting heating output, and increasing humidity levels.
For instance, thick curbstones can be placed in a rack located adjacent to thin terrace slabs without jeopardizing product quality. The system automatically switches to energy-saving mode to minimize operating costs as soon as all deviations have been equalized.
Complete product range
The above system is also used in curing units with individual chambers and intelligently equalizes temperature differences in the longitudinal direction. This feature is enabled by frequency converter controlled fans and air inlets positioned at the most appropriate points. This setup almost completely eliminates the need for manual system adjustments. The first system of this type was successfully installed and commissioned last year at Kann Baustoffwerke in Urmitz, Germany. CureTec delivered and assembled the complete system, including racks, insulation and roll-up doors.
CureTec supplies concrete curing systems that cover the complete product range, as well as racks, chamber insulation systems, roll-up doors, air circulation systems, aggregate heating systems, and mixing water heaters.