UNITECHNIK
Future potentials for the precast industry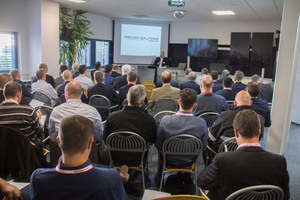 Figure: Unitechnik
The potentials for the precast industry and already existing solutions for supporting increasing digitation were demonstrated at the PrecastSolutions Future Congress
Figure: Unitechnik
To what extent has the concept of Industrie 4.0 already found its way into the precast industry? And what are its possibilities available to operators of precast plants, mechanical engineering and software companies?
Answers to these central questions were given by Unitechnik to the participants from six European countries at the PrecastSolutions Future Congress. The experts for industrial automation focused in their lectures and in workshops on viable future solutions that fill the catchword Industrie 4.0 with life.
Uniform IFC interfaces worldwide
The companies S-Contec, LAP, Ratec and Trimble/Tekla demonstrated, jointly with Unitechnik, the potentials and already existing solutions for supporting increasing digitization in the precast industry. A number of analogous themes were presented, such as innovative construction elements of lightweight concrete, with open structure, and intelligent formwork systems.
But digital solutions such as BIM (Building Information Modeling) were also addressed. The 3-D models of buildings created with the assistance of BIM contain all information of relevance throughout the entire building lifetime and its construction – from the foundation to the power outlet. Unitechnik, together with other industry representatives, are currently working on a worldwide uniform IFC interface between BIM and precast plants.
Virtual tour through a precast plant
Laser projection of geometries and instructions for pallet rotation systems offer additional added value for increasing productivity in precast plants. Large monitors in production are planned to completely replace paper, and intelligent control algorithms minimize waiting times in production flow by cycle homogenization.
Some of the solutions presented were also ready for live testing by the participants in the 4.0 parcours. A tour of a cutting-edge precast plant could be taken through virtual reality googles. In addition, the HoloLense showed congress visitors a concrete wall on which a closer look revealed even reinforcement details. On a Service 4.0 work station, the participants were able to imagine being in the control center of a real precast plant.