Schöck Bauteile
Fully automated reinforcement design in AllplanPrecast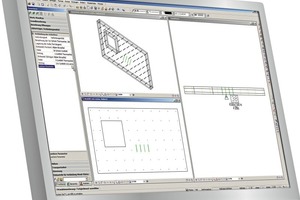 Figure: Schöck Bauteile
The next update of AllplanPrecast, the software provided by Nemetschek, will include an option to enable the fully automated design of Schöck thermal anchors
Figure: Schöck Bauteile
Designers will soon be able to use AllplanPrecast, the software package provided by Nemetschek Engineering GmbH, to design and position Schöck thermal anchors in core-insulated precast and sandwich wall units. The integrated software module will be made available as part of the next AllplanPrecast update.
Simple transfer of geometrical data
This program provides a high degree of reliability and accuracy in the design of precast wall units. The Schöck thermal anchor design module can fetch geometrical data quickly and easily from AllplanPrecast. In accordance with the National Technical Approval, the fully automated design process is controlled by the element geometry, the insulating material and various boundary parameters. Many time-saving routines run in the background, independently of any user activity, which eliminate the need for manual work when designing and positioning Schöck thermal anchors.
The software module was developed by Schöck engineers and integrated into the AllplanPrecast solution provided by Nemetschek, which is primarily used in the precast industry to automate precast element planning and design. Nemetschek AG is the world's leading software supplier to architects, engineers and the construction industry.
Thermal anchors for energy-efficient reinforcement
The Schöck thermal anchor is a glass-fiber reinforcement that ensures the energy-efficient reinforcement of core-insulated precast and sandwich wall units. This material technology results in an outstanding U value of the wall unit; it is resistant to corrosion and suitable for any insulation material.
The reinforcing element enables a high degree of design freedom in the construction of single-family homes and multi-story buildings, industrial or commercial buildings, supported or suspended façades.