Probst
Easyfill EF-H stone tile jointing machine in action in Abu Dhabi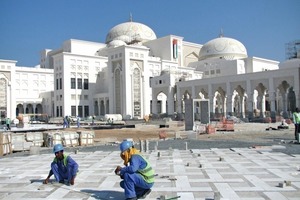 Figure: Probst
300,000 m² of natural stone tiles in front of the presidential palace in Abu Dhabi are being sanded and finished
Figure: Probst
The new presidential palace with numerous side buildings was built in Abu Dhabi on 150 hectares. A large plaza in front of the palace measuring about 300,000 m² is covered with natural stone tiles of superb quality. Perfect workmanship and the use of precious materials create palatial splendour. Project engineers require first rate quality from hired builders and service providers. Every detail counts. This includes using the proper tools and machines for the sanding of the precious ground covering. Probst Easyfill EF-H jointing equipment is the natural choice for creating the required perfection.
Daytime temperatures above 40 oC are quite common in Abu Dhabi. Rapid temperature changes are liable to cause stress fractures in natural stone surfaces. Engineering prevents this problem. The tiles are placed so that the joints have just the right dimensions and the grouting material consists of a specially adapted elastic material, which conforms to the tiles as they expand and contract. The joints must be completely filled with stable granulous grouting material to show the elasticity, which is essential for durability.
Speed by a factor ten by the Easyfill EF-H jointer
The construction firm decided to buy several Probst surface jointing machines. The workers move the jointing machines by hand. Replacing the traditional broom with the Easyfill EF-H jointer increases the speed by a factor ten. Working with the jointing machine is also far easier than the traditional method. Workers will appreciate this fact on hot days.
The floor tile jointing machine features two crosswise arranged brushes, which are geared into each other, thus creating a forward drive. The brushes are powered by a 5.5-PS gasoline motor. This motor provides 80 % of the required sliding force. As a result the machine moves forward almost on its own. The operator's main task is keeping the jointing machine moving in the desired direction.
Before the joints can be filled, the sand must be spread on top of the tiled floor. If the spreading is very uneven some brushes may not be able to handle the load. This is no problem with Easyfill brushes. Probst engineers spend a lot of effort on selecting the optimal parameters for bristle rigidity, elasticity, and resistivity. As a result, the bristles never lose contact with the tiled surface. This ensures highly efficient bristle movements.
The individual bristles have a reserve of 50 mm to account for wear and tear. This guarantees a long bristle life and minimum maintenance requirements. The patented quick-adjustment spindle allows the continuous adjustment of the bristle length. This keeps the bristle wear and tear to a minimum.
The wheels of the Easyfill machine are made of undyed natural rubber. This is an important advantage. Unlike commonly used wheels, the Easyfill wheels do not leave streaks or chaff marks on the top-quality natural stone tiles.