PROBST
Tiles and slabs ergonomically laid with Flieguan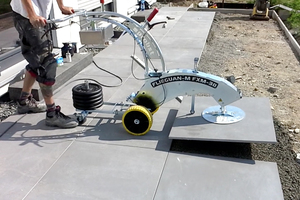 Figure: Probst
The Flieguan-M FXM-30 vacuum laying device is available for laying heavy slabs with a weight of up to 30 kg
Figure: Probst
With the benefits of fewer joints and a more spacious impression, large formats are in demand for outdoor installation. With edge lengths of up to 150 cm and their resulting heavy weight, these XXL slabs are a challenge to pavers and landscape gardeners – unless they have Flieguan as their team partner. Probst, the Swabian powerhouse of ideas in southwestern Germany, has developed a range of easily operated laying equipment for installing tiles and slabs with great precision and easy on the joints.
Positioning natural stone or concrete blocks weighing 25 kg and more, with perfect fit and in one go – and avoiding if at all possible any damage to hands and material – workers who process natural stone or concrete slabs will know how challenging this is. Probst, market leader for handling technology, has taken on the problem and, with its new vacuum laying series, has developed a practical helper for work outdoors. The name of the product program fits its benefits: "Flieguan places tiles perfectly."
Practical helpers in the new vacuum series
With the Flieguan-Handy FXH-25, tiles can be simply positioned with high precision and with only one hand – thanks to the suction generated by a standard industrial vacuum cleaner. The aluminum suction plate is placed on a tile, where it attaches itself within seconds by its partial vacuum. This works even on tiles with heavily textured surfaces. The vacuum valve opens with a slight movement of the finger for placing the slab – with perfect fit even for the last row, since no lateral manipulation is required. If subsequent corrections should become necessary, this takes place by simply closing the valve and lifting the slab again. The ergonomic handle fits well into the hands of both right- and left-handers.
The Flieguan-Ergo-Stick FXES-25 is recommended for upright lay89ing: t89h89e tile is easily approached on two smooth-running plastic wheels and is precisely positioned. For laying lightweight tiles, the wheel set can be detached in just a few easy steps.
With loadbearing capacity of up to 25 kg, Ergo-Stick and Handy are a great help with respect to ergonomic benefits: they are easy on workers' backs and joints. These practical helpers are simply connected by a feed hose and a connection cone to commercially available industrial vacuum cleaners or to a rucksack vacuum cleaner. The 5-m long feed hose, part of the delivery scope, provides a degree of connection independence at the site.
Efficient and ergonomic laying equipment
The larger Flieguan-M FXM-30 vacuum laying unit is available for heavy paving tiles and natural stone slabs with weights of up to 30 kg. The necessary partial vacuum for securely handling even lightly textured surfaces is generated by a lightweight low-noise rechargeable battery-operated vacuum pump unit. Until now, all large-format tiles had to be laid by workers on their knees and positioned into the mortar bed by lifting them far forward. Flieguan systems now completely eliminate this unhealthy working routine. For workers alone or together with a partner, the Flieguan-M FXM-30 permits ergonomic laying with great benefits for human backs. For transport, the Flieguan-M FXM-30 can be disassembled to a compact unit with a few turns of the hand. With its reliability and without cable, this device provides maximum flexibility of use.
The universal-use transport trolley Flieguan-Sherpa FXS-250 is the ideal accessory onsite. A suspension for Flieguan-Handy FXH-25 as well as the pull-out shelf for adhesives and mortar buckets ideally enable a wide range of uses.
The Flieguan family from Probst provides companies and individual users with efficient and ergonomic tile laying equipment made in Germany. Developed in collaboration with users and practitioners, these clever helpers successfully proved their worth on the construction sites, even prior to their series production.