Herrenknecht
Carousel segment production for Bossler Tunnel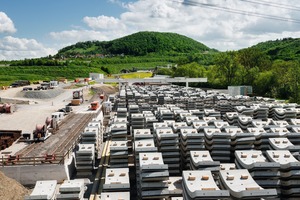 Figure: Herrenknecht
On-site facility with outdoor segment storage directly adjacent to the Bossler Tunnel job site near Aichelberg, between Stuttgart and Ulm
Figure: Herrenknecht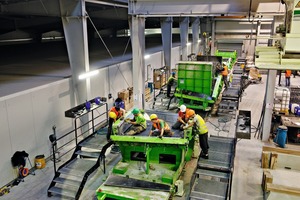 Figure: Herrenknecht
Segment production for the 8,806 m long Bossler Tunnel: the tried-and‑tested carousel production system using Herrenknecht Formwork equipment provides highest reliability
Figure: Herrenknecht
Concrete segments in motion: the "high-speed train route through Europe" directly crosses Stuttgart, the capital of the German state of Baden Württemberg. Deutsche Bahn (German Rail) and its partners are investing in the new Stuttgart-Ulm link to build an efficient, high-performance infrastructure. Construction contractors rely on innovative, absolutely reliable technology and equipment supplied by Herrenknecht. Not only tunneling machinery from the corporate headquarters at Schwanau but also Herrenknecht Formwork equipment for the production of precision segments is used for the mechanized excavation of the 9,468 m long Filder ­Tunnel connecting the Central Train Station to Stuttgart Airport and of the 8,806 m long Bossler Tunnel at Aichelberg.
An on-site facility has been set up near the tunnel portal to make the concrete segments (each of them weighing several tonnes) manufactured on the equipment readily available for installation in the tunnel. In this facility, 56 high-precision molds from Herrenknecht Formwork are used to produce the segments weighing up to 16 tonnes on a semi-automated carousel plant with a working line and curing tunnel. This on-site facility produces an average of over 100 segments per day.
Reliable segment logistics
A transport line with turning system, gasket gluing station, 90° tilting vacuum lifting device and mechanical segment clamps ensures reliable and safe segment logistics from the shop floor to the outdoor storage area.
Roland Steindl, Technical Director of PTS, the JV to which segment production was contracted, explains his decision to use a Herrenknecht Formwork carousel plant: "The Bossler Tunnel JV, PTS, chose this system because Herrenknecht Formwork offered not only high-precision molds but also the complete production plant including heating system, handling and special concreting equipment, vibration system and exit line. As a single-source supplier, Herrenknecht Formwork supported us already during the planning phase by providing the mechanical engineering expertise needed to manage sophisticated on-site projects. In our capacity as plant operator, we have had a single point of contact right from the start whilst getting true value for money."
Carousel production ­requires less staff
Automated segment production using a carousel plant provides consistently high production outputs at a low staffing level during the manufacturing proc-ess. Furthermore, this carousel system can be used several times because it is customizable and can be adapted to other tunnel lining ring diameters.
On a worldwide scale, eleven carousel plants supplied by Herrenknecht Formwork are currently being designed, installed or used.
It is not only the experience and expertise of ­Herrenknecht Formwork as a supplier of formwork and segment production equipment but also the close collaboration within the Herrenknecht group of companies that brings about major benefits for clients and construction contractors since the number of required interfaces is reduced. For example, sales and project managers of Herrenknecht AG and Herrenknecht Formwork coordinate their activities as early as at the bidding stage to provide customers with tailor-made, technically compatible solutions from a single source.