H-Bau Technik
Building in record time with Plug & Play
Figure: H-Bau Technik
Powercon load connectors consist of male and female elements
Figure: H-Bau Technik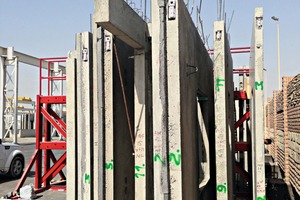 Figure: H-Bau Technik
Walls being prepared for erection with integrated Powercon load ­connectors
Figure: H-Bau Technik
Building in record time without cutbacks in safety and quality – this goal has become more and more important in times when living space is becoming increasingly scarce, especially in urban agglomeration areas. According to a study conducted by the Pestel Institute, over 140,000 rental apartments more must be built yearly by the end of 2020 in Germany than the ­total built in 2015. Prefabrication and construction time minimization – with at least the present uniform high quality of execution – are essential factors in this objective.
Mechanical load-transmitting connections between two structural precast concrete members – until now not always a simple matter – are now effectively possible with the Powercon wall lock from H-Bau Technik GmbH.
In the Arabian desert as well, gigantic complete villa estates are rising from the sand, with more than 3,000 precast buildings. The secret there is the high degree of prefabrication, combined with the internationally proven Unicon rapid connection system from H-Bau Technik GmbH. This load connectors, recently approved by the German Institute for Construction Engineering (DIBt), enables cost-efficient erection of precast members and, by means of its Plug & Play system, easily meets requirements placed by simply being plugged together.
Short erection times thanks to the simple plug-in technology
Connections between structural members in conventional precast construction are implemented by casting them in wet concrete, for which setting times must be observed. A further disadvantage is that disassembly virtually amounts to demolition. With the Powercon Plug & Play system, on the other hand, the connection is established simply be plugging together the galvanized cast steel connectors. ­Powercon durably transmits forces in various directions of loading, thus enabling universal application of the connectors. The particular geometry of the wall lock exploits the weight of the members as a force pressing the elements together. In this way, joints between members are effectively provided: rain- and soundproof.
A Powercon set consists of male and female units. The interlocking, force-transmitting cast steel parts can be securely and permanently connected to each other and are fixed in place with bolts in an anchor embedded in the precast member. Only the first wall element must be secured with conventional slanting props. This plug-in technology saves time and money, and aligning, drilling, and fixing of additional columns is not necessary.
Sustainable thanks to ­non-destructive removal
The Powercon system, which allows for virtually non-destructive disassembly, opens up a new market segment to precasters. Temporary buildings, such as housing for refugees, can be erected within a few days. Subsidized or classical residential buildings, industrial structures, and multi-story complexes are effectively possible, as well as modular extensions of existing buildings. Garages, transformer stations, and sound barriers are additional examples of possible applications.
Short erection times and low costs enable achievement of a higher quality of execution. Powercon connects walls invisibly, thereby eliminating the need for reworking. Building joints, depending on planned widths and requirements, are mortared or glued, with permanent elasticity.
Internationally tested and ­officially approved in ­Germany
In addition to Powercon, the Unicon system, under the motto "Holistic Solutions," offers additional options for power, water, and wastewater connections. An expert Unicon consulting team is available to customers nationally and internationally to provide optimal support and to implement new product ideas and projects.
Since market introduction, Powercon load connectors – as well as the entire Unicon system – have been in use in numerous projects in Germany and abroad. Construction companies in Abu Dhabi and in Saudi Arabia include the product series in executing large-scale projects. In Dubai, more than 10,000 precast parts have been installed with Powercon in record time in more than 2,000 room modules, with each element weighing up to 50 metric tons. The recently issued DIBt official approval Z-14.4.709 paves the way for serial application of the Powercon connectors on the German market.