H. MEUDT BETONSTEINWERK
Adhesive-bonded islands for smooth cross-border traffic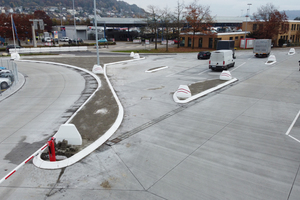 Figure: Meudt
The parking zones for trucks on the border-crossing point in the direction of Switzerland were completely restored
Figure: Meudt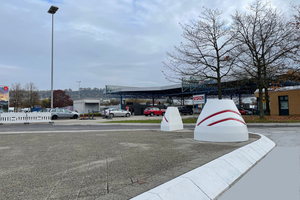 Figure: Meudt
The surfacing of the parking zone for trucks was implemented in concrete – the flat curbstones for the traffic islands were simply glued on
Figure: Meudt
Figure: Meudt
The islands can be implemented virtually without cutting, thanks to the numerous radii blocks and shaped blocks of the Meudt product line
Figure: Meudt
Road traffic between Germany and Switzerland is currently processed on 67 cross-border points. A major part of the supraregional cross-border and transit traffic leads along several German and Swiss motorways. One of these crossings takes place from the German side at Gottmadingen-Bietingen in Hegau to Switzerland at Thayngen in the Canton of Schaffhausen. Because, owing to the significant increase in truck traffic in recent years, the area around the customs office was no longer able to cope with demand, extensive restoration measures were undertaken here from March 2021 to the spring of 2022. In addition to sewer rehabilitation and drainage works, parking lots, truck parking zones and traffic lanes for trucks arriving from Switzerland were completely restored. To keep the construction time as short as possible, the new traffic islands and road dividers were installed based on a special technique.
The Gottmadingen-Bietingen/Thayngen customs office processes around 1,200 trucks daily – and the number is tendentially rising. Senior Site Engineer Frank Pfeiffer of the company J. Friedrich Storz Verkehrswegebau GmbH & Co. KG Eigeltingen in Germany explains the measure: "We found cracked joints in a defective substructure and damages to the roadway, the parking zones and traffic islands in many places of the old concrete roads, which are more than 30 years old. We therefore completely restored approx. 8.000 m² traffic areas. For this, we used innovative technology, which involved recycling of the major part of the dismantled material. Using a special machine, we succeeded in separating the reinforced concrete surface, which is supported by an asphalt layer, from the frost protection layer below. We then crushed the demolished concrete in a mobile crushing plant to the desired particle size and subsequently reinstalled it as a 35-cm frost protection layer. In this way, as much as 6,000 tons of concrete were recycled," declares Pfeiffer.
Flat curbstones adhesive-bonded instead of conventionally installed
The experts installed an asphalt layer of 10-cm thickness over the new frost protection layer, on top of which a reinforced-concrete surface of 26-cm thickness was subsequently installed. For constructing the total of 8 traffic islands, the building contractor decided quite intentionally against conventional construction. Frank Pfeiffer explains: "The purpose of the traffic islands is to guide the trucks effectively to their parking places. Through rehabilitation, traffic routing has now been notably improved. Some thought is given to possibly handling processing in a few years purely electronically – i.e., completely without personnel. In that case, traffic routing may have to be slightly adjusted. With conventionally installed curbstones this would be possible only with immense expenditure. That is why we decided on the curbstone adhesive-bonding technique from the concrete paving block manufacturer Hermann Meudt in Wallmerod." In this project, all flat curbstones, installed here with profile of 30 x 25 cm as edging, were cut to exactly the same required height already in the plant and adhesively bonded onto the completed concrete road surface, instead of being conventionally installed. Frank Pfeiffer continues: "The curbstones bonded in this way to the road surface can also not be so easily removed later on. That is, of course, not planned in this way and would require, if it came to that, considerable amount of prying and milling work. Compared to conventional installation this can be done with less complex changes to traffic routing," explains Pfeiffer.
Bonding took place based on a thin-bed process, for which the 2-component synthetic adhesive was applied to the concrete – previously roughened with a milling cutter and subsequently cleaned with pressurized water – and the curbstones glued on on the cut side. In accordance with the manufacturer, Meudt, the adhesive adheres especially well to smooth surfaces, the cement layer having been removed in the preceding cutting process. Another advantage: with the numerous radii blocks and shaped blocks that the Meudt product line comprises, traffic lane dividers and roadway borders can be implemented without any cutting. Pfeiffer: "The curbstone bonding technique, moreover, saves a great deal of time, because the concrete surface can, of course, be much faster installed in one go compared to many islands that would otherwise need to be blocked out."
Curbstone bonding technique saves time
In this way, this construction method also contributed to considerably shorter construction time than initially planned. A major advantage of the adhesive bonding technique is also that the flat curbstones are sawed to a precisely uniform height already in the plant. Production-related fluctuations in height are in this way eliminated, and the blocks in the process are in this way calibrated for bonding. Dimensional tolerances are therefore virtually ruled out. But what about the stability of the adhesion-bonded curbstones? Are they able to resist the daily strain of truck traffic? Frank Pfeiffer responds: "Our experience shows us that an adhesion-bonded curbstone solution is also durably resistant."
CONTACT
Hermann Meudt Betonsteinwerk GmbH
Frankfurter Straße 38
56414 Wallmerod/Germany
+49 6435 50920