Aerolift Industrials BV participates in the USA
New generation of vacuum lifting devices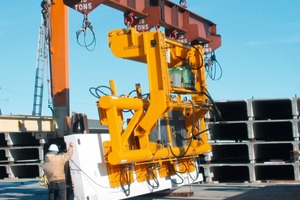 Fig. 1
As in the USA heavy loads are often handled and space is not an issue; A vacuum lifting and 90 degree turning device with a capacity of 24 ton manipulating a prestressed spandrel panel.
A big advantage by lifting with vacuum is that there is no need for personnel to be within range of the load to connect belts or chains. This advantage clearly provides a safer environment as the operator can stay well away from the load and he only needs to operate the vacuum device control pendant. Only because  of this example vacuum lifting is much safer as compared to conventional lifting with belts and chains.

The right capacities according to the latest safety regulations. They also provide the advantage of security in case of power failure by electric driven vacuum devices or by motor stoppages with diesel or hydraulic driven vacuum devices.
Vacuum handling devices made by Aerolift, as compared with magnets or devices using belts and chains for operation, are the only devices equipped with an alarm system in case of power failure. The alarm activates far in advance of the moment that the load will release.
Vacuum-aided lifting is often safer than conventional lifting. It is for this reason alone...