Precast Days Provide Local Communities with Opportunities to Visit Precast Concrete Manufacturing Facilities
16.09.2022
The National Precast Concrete Association (NPCA) and its members are hosting Precast Days 2022 at facilities across the United States to raise awareness of precast concrete manufacturing. Students, contractors, specifiers, job-seekers, government officials and community members are invited to visit their local plants to learn more about the industry and see how precast concrete plants utilize modern manufacturing techniques to create the quality products that serve as the backbone to U.S. infrastructure.
Across the United States
Precast Days currently are scheduled in 22 cities across the United States and one virtual event. More events are expected to be added. The list as of today is available at the end of this release.
Each Precast Days event will be unique to the individual facility. Many will include tours, meet-and-greets with plant personnel, Q&A sessions and job application opportunities. Individuals can register for a Precast Days event near them by visiting www.Precast.org/PrecastDays/Attend.
Time for Networking
"Precast Days is a unique opportunity for people to meet the men and women who work there, learn what happens inside these facilities that employ their neighbors and see the process that helps build their area's infrastructure," NPCA President FRED GRUBBE said. "Precast concrete is a time-tested, durable and resilient component of construction, and visitors will be able to see first-hand how these products are made."

Precast Days 2022 is supported by nearly a dozen program sponsors, including the premier sponsor, Afinitas.
For more information about Precast Days, visit www.Precast.org/PrecastDays or contact NPCA Director of Communications and Public Affairs JOE FROLLO at (317) 582-2320 or .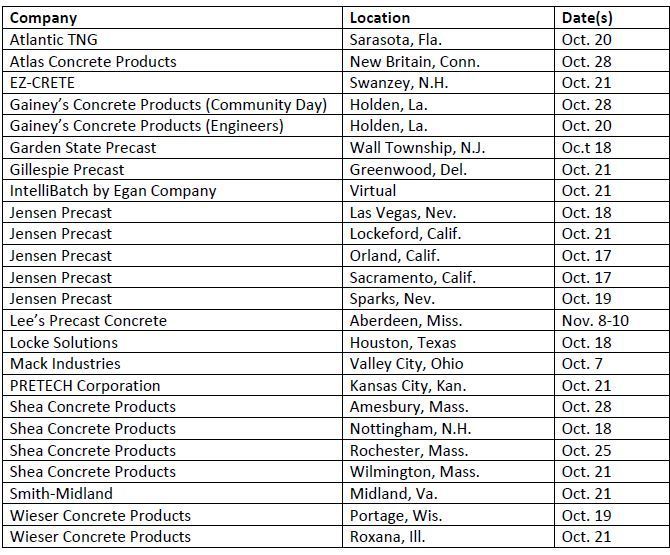 Companies offering Precast Days events as of Sept. 15 (Figure: NPCA)

Companies offering Precast Days events as of Sept. 15 (Figure: NPCA)
CONTACT:

National Precast Concrete Association (NPCA)
Joe Frollo