E.C. BABBERT
NPCA member company opened its doors to 600 visitors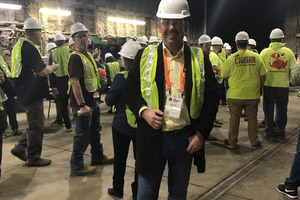 Figure: NPCA/Heather Bremer
About 600 participants accepted the invitation of E.C. Babbert even in spite of the early start at 5:30 a.m. local time, including a team of
"Champion Precast" (right) and BFT editor-in-chief Silvio Schade (front)
Figure: NPCA/Heather Bremer
Founded in 1960 by E.C. Babbert, E.C. Babbert, Inc. opened for business in Columbus, OH. In the early days, the company mostly installed septic tanks, pumps, and softeners. When the city of Columbus needed an enormous amount of concrete barriers for a downtown sport car race, E.C. Babbert was awarded the contract, placing the business on its road to big success. Now this family owned business, which has grown steadily over the years, manufactures just about any concrete product that is used below grade from its two plant locations, Canal Winchester, OH and Lancaster, OH.
E.C. Babbert and his sons, Chuck Babbert, President of Sales, and Ron Babbert, President of Production, are proud to manage the business and look forward to a bright future in the precast concrete industry. E.C. Babbert, Inc. is the one-stop destination for all customers precast concrete needs. The company offers an extensive list of products, many of which are in stock and readily available. If need specialty items are needed, EC Babbert can quote and build custom engineered products that meet the specifications or can design and submit an alternate design for approval.
Actively involved in the NPCA since 1970
The Babberts have been actively involved in the National Precast Concrete Association since 1970 and both E.C. and his son Chuck have served on the board of directors for the association. E.C. served as President in 1976-77, and was awarded the Yoakum Award for his company's leadership and inspiration in the precast industry. The Yoakum Award is NPCA's highest honor.
Following in his father's footsteps, Chuck Babbert received the 2015 NPCA Yoakum Award to a standing ovation. As of 2015 the Babberts were one of only four families with multi-generational Yoakum Award recipients.
E.C. Babbert was featured as a Precast Pioneer in Precast Inc. Magazine March/April 2015 edition.
Both Babbert plants are certified annually through NPCA's plant certification process and are able to produce Ohio Department of Transportation products in addition to various other City products.
As part of the Precast Show in Columbus/Ohio in February 2023, E.C. Babbert opened its doors to no fewer than 600 visitors for a plant tour.
CONTACT
E.C. Babbert, Inc.
7415 Diley Rd.
P.O. Box 203
Canal Winchester
OH 43110/USA
+1 614 837 8444
The following is a list of various product drawing:
- Manholes (outside Drop
Manhole Components)
- Manholes - Communication
- Water Meter Pit
- Manholes - Electric
- MELP Standard Transformer
Vault
- Catch Basins
- City of Columbus Water
Meter Pits
- Curb Inlets (combined Curb &
Gutter Inlet/mountable
Curb & Gutter Inlet)
- Electric Pull Boxes
- Grease Interceptors
- Handholes
- Headwalls
- Light Pole Base
- Oil Interceptors
- Safety Grates
- Sand Traps
- Accessories
(Manhole Gasket - Factory
Installed PSX Boot;
Manhole Gasket - Factory
Installed A-LOK;
Precast Grade Adjustment
Rings; Manhole Steps etc.)