New capabilities from Graphisoft now in Archicad 26 available
22.07.2022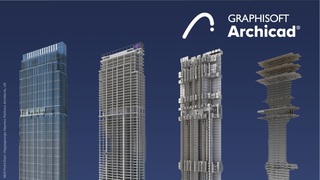 Figure: Graphisoft
Graphisoft, a leading Building Information Modeling (BIM) software solution developer for architecture, today announced the release of Archicad 26, and updates to its BIMcloud, BIMx, and DDScad solutions. Thanks to powerful improvements to automated design, documentation and collaboration workflows, and professional out-of-the-box visualization solutions, architects and engineers can dedicate more of their time and attention to their valuable design work.
With Archicad, architects can design, visualize, document, and deliver projects of all sizes with powerful built-in tools and an easy-to-use interface that make it the most efficient and intuitive BIM software on the market.
What's new in Archicad 26
Design: Architects will spend less time on project management and more time on design — Archicad 26 helps teams stay organized and streamlines files even as the size and complexity of projects continues to grow. "Thanks to the powerful enhancements in Archicad 26, users can focus on their designs while increasing productivity through smoother design, documentation, and collaboration workflows, and their increased productivity translates into more time for design," said Zsolt Kerecsen, Vice President, Software Success at Graphisoft. "Beginning with Archicad 26, our newly unveiled Adaptive Hybrid Framework approach helps us bring new technology to market faster," he added.
Visualize: Faster client approvals — architects can create stunning visualizations quickly and easily thanks to professional out-of-the-box solutions, modern textures and furniture, and powerful BIMx web and desktop viewer updates.
Collaborate: Archicad 26 introduces improved structural analytical model workflows and usability enhancements for faster, smoother interoperability between architects and structural engineers.
Document: Archicad 26 introduces faster, more accurate documentation thanks to powerful enhancements to the documentation workflow.
CONTACT
Graphisoft
Julianna Gulden
+1 (216) 387-5234