BUILDING CONGRESS FORUM
"The distinctive feature of the BIBM Congress is the European idea behind it"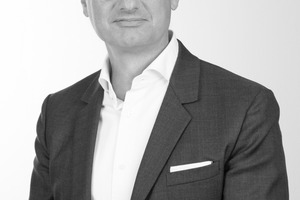 Figure: Bauverlag
Michael Voss, managing director of Bauverlag BV GmbH and Building Congress Forum
Figure: Bauverlag
Figure: FBF Betondienst
Dr. Ulrich Lotz, managing director of FBF
Betondienst GmbH and Building Congress Forum
Figure: FBF Betondienst
The 24th edition of Europe's precast concrete conference, BIBM Congress 2023, will take place from September 27 to 29, 2023 at Hotel Okura Amsterdam. The CEOs of organizer Building Congress Forum GmbH, Dr. Ulrich Lotz and Michael Voss, and Denny Bakirtzis, head of organization congress & exhibition, answered the questions asked by BFT editor-in-chief, Silvio Schade, in an interview.
BFT International: Good morning, Dr. Lotz, Mr. Voss, Mr. Bakirtzis.Mr. Voss, what is special about the BIBM and the BIBM congress?
Michael Voss: The BIBM Congress is the European event of the precast industry: if you work in precast concrete or are a supplier of the precast concrete sector, this is the event to attend.
BIBM, the Bureau International du Béton Manufacturé, is the Federation of the European Precast Concrete Industry. It was founded in the 1950s and has been holding a major European congress since that time at, initially, three-year and, later, two-year intervals. 2023 will see the 24th edition.
So we are not talking about any random host but about the voice of the precast concrete industry at the European level, whether for general situations (e. g. a directive or decision) or for specific national problems. BIBM provides a platform for professionals, experts and industrialists involved in the precast concrete industry to come together, network, and jointly address key issues. BIBM also promotes the sharing of experience and information with its committees and ad-hoc groups, or with the platform of the BIBM Congress.
BFT International: This year's BIBM Congress will be held in Amsterdam from September 27 to 29. That is a truly attractive city for holding a congress. But why Amsterdam?
Dr. Ulrich Lotz: Yes, that's true. Well, generally speaking, Amsterdam is an enormously open, young European city. Amsterdam provides a high level of quality and cultural life as well as a great business ecosystem. Delegates and companies attending the BIBM Congress 2023 will find a fantastic digital and social network in the city, and everything is connected by land, water and air.
Modern Amsterdam's spirit of commerce and excellent quality of life make it a magnet for talent, startups and international headquarters of companies from across the globe. All relevant contacts are close at hand, and a wide network of international service providers offers companies a competitive edge.
BFT International: So it was the city's spirit of trade?
Michael Voss: Indeed. The city of Amsterdam always had this kind of spirit of trade. For instance, when formal trade relations with Japan were established in 1609, the Dutch were granted extensive trading rights and established an outpost of the Dutch East India Company in Hirado.
We wanted to include this context in the concept of the congress, which is also why we chose the five-star Hotel Okura as venue. Michiel Roelfsema, the general manager of Hotel Okura Amsterdam, will explain the relationship between the Netherlands and Japan in more detail during the welcome reception.
BFT International: According to the conference program, the congress will deal with highly relevant topics such as decarbonization, digitalization, the circular economy, BIM and precast concrete, as well as resilience. Mr. Bakirtzis, what is special about the event?
Denny Bakirtzis: The distinctive feature of the event is the European idea behind it. The congress will address the topics that Mr. Voss mentioned earlier when talking about BIBM: it will enable professionals, experts and industrialists involved in the precast concrete industry to network, come together, and jointly address key issues. The theme of this year's congress will be "Green. Digital. Resilient. Precast Concrete Solutions". It mentions the three most important issues concerning the future of building.
Like other sectors, the precast concrete industry is well aware of the need to reduce its carbon footprint. The latest projects of decarbonization, circular economy and carbon capture and use (CCU) will be presented. All of this can only be achieved with the right processes and digitalization. Building Information Modeling (BIM) and precast concrete, for example, are perfect partners. This needs to be given much more consideration in construction projects.
The future of construction will also have to be integrated into a green and digital society. Philip Crampton, president of the European Construction Industry Federation (FIEC), will speak about this topic. In addition, buildings will have to be constructed to be ever more resilient, as we will have to deal with the consequences of climate change such as floods, for example, or seismic activities. The delegates will learn more about the solutions that precast concrete can offer to meet these challenges.
BFT International: Why is BCF – Building Congress Forum in a particularly good position to host this congress?
Dr. Ulrich Lotz: BCF offers professional event planning and organization services for international congresses. We have specialized knowledge in the entire value chain of building, as well as expertise in organizing on the one hand and in professional event management and strategic communication through established platforms on the other. BCF is managed by two equal partners, and therefore combines two forces: Bauverlag BV GmbH and FBF Betondienst GmbH. FBF Betondienst GmbH is host of the BetonTage congress and can look back on several decades of experience in event management. In addition, it operates an own media agency including streaming, video editing, website and social media services.
Michael Voss: And Bauverlag BV GmbH is in a good position in the field of architecture but also publishes BFT International, one of the leading magazines of the concrete industry. In addition, the September issue of BFT International will publish the congress proceedings. This is another example that clearly shows the mutual benefit and cooperation within the new BCF entity. At the end of the day, it is the combination of experience in event management and hands-on industry expertise.
BFT International: Are there other partners involved in this cooperation?
Dr. Ulrich Lotz: The International Prestressed Hollowcore Association (IPHA) with its new managing director, Kjell-Ole Gjestemoen, is a major supporter. Gjestemoen succeeded Carsten Friberg whom we stayed in close contact with for the 2021 congress in Copenhagen. IPHA demonstrates an equally strong commitment and has become our official cooperation partner, which we are extremely grateful for.
BFT International:Is it still possible to register as an exhibitor? We have heard that the supporting exhibition is in high demand. Is that correct?
Denny Bakirtzis: That is true but there are still a few last slots available for exhibitors. Our website at www.bibmcongress.eu provides full information regarding the exhibition as well as registration as an exhibitor or congress attendee. The congress website also offers downloads such as the program or the exhibitor's manual.
BFT International: What kind of supporting program can attendees actually expect?
Denny Bakirtzis: There will, of course, be an extensive social program with references to the history of Amsterdam and the congress venue, starting with a sightseeing boat tour on the famous canals called "grachten" that will be offered on Thursday, Friday and Saturday. Singles or couples will thus have the opportunity to extend their stay to the weekend. On Thursday evening, we will have a gala dinner at Rosarium in Amstelpark, which provides a pleasant backdrop in late summer. If we are lucky, we will sit on the terrace that opens onto Rosarium's garden.
At the famous manufactory of Coster Diamonds, the delegates will be offered a guided tour and a surprise: each visitor will be given a glass of champagne, and in each glass, the Royal Coster team has placed either a real diamond or a cubic zirconia – an imitation diamond. It is impossible to see the difference between a real diamond and the zirconia gemstone. That is why one of Royal Coster's master polishers will check each gemstone with a diamond loupe. While checking the gemstones, the master will explain the process of recognizing a real or fake diamond. The showstopper: one of the stones is a real diamond. But even if you are not the lucky one, you can keep the zirconia as a beautiful memento of the entire tour.
And last but not least, referring to the Japanese culture that will surround us at Hotel Okura, the participants will have the unique opportunity to attend an Origami workshop. There are countless different origami models, such as lotus flowers or cranes. As a beginner, it may seem difficult but the team at Hotel Okura will teach you how to fold origami step by step.
BFT International: That sounds like a lot of work but the event really seems to be an enrichment for the precast concrete sector. Thank you very much for this interview. We wish you all the best in hosting the BIBM Congress of the European precast industry.
Interview: Silvio Schade,
Editor-in-Chief
BFT International
CONTACT
Building Congress Forum
Gerhard-Koch-Str. 2+4
73760 Ostfildern/Germany