KANN BAUSTOFFWERKE
Stylishly designed closure for swimming-pool coping with Vios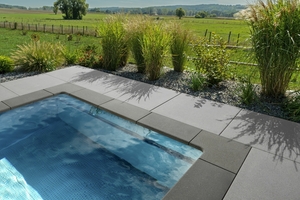 Figure: Kann Baustoffwerke
Vios swimming-pool coping from Kann enables attractive integration into the design of the surrounding areas – here, in combination with Vios tiles
Figure: Kann Baustoffwerke
For more and more garden owners, their private feel-good oasis is not complete without their own swimming pool. The highest-quality solution with the longest service life is an in-ground, permanently installed pool. With Vios from Kann, the pool coping can be reliably and stylischly designed, with ease of integration into the surrounding soil foundation. Implemented with Vios tiles or Vios block pavements, there results a stylish end-to-end solution.
The pool coping consists of standard-sized 60 x 30 cm tiles, an inner corner measuring 45 x 30 x 30 cm and an outer corner of 45 x 30 x 30 cm, each 4 cm thick. These elements also enable bordering of angular pool shapes, in addition to classic four-sided pools. Access to the pool via Roman steps is easily implemented with the outer corners.
Surface colors of classic elegance
The block edge facing the water is implemented with a curvature of 20 mm radius for all formats. This makes the pool coping visually attractive and, at the same time, meets safety requirements by avoiding sharp edges. Moreover, the curvature makes relaxing on the coping more pleasant for swimmers. The fine-blasted surfaces and R13 skid resistance significantly contribute to the safety of the coping, even under wet conditions.
Pool coping in the classic elegant surface colors of gray, anthracite and beige can be integrated not only in all designs with the Vios system, but also enables harmonious matching with other Kann products.
Whether in the design of the surrounding areas or in contrasting colors: the result will  always be harmonious and elegant. And, if desired, combinations with wood or natural stone can also be realized. More information and data can be found are at www.kann.de/vios-poolumrandung.
CONTACT
Kann GmbH Baustoffwerke
Bendorfer Straße
56170 Bendorf/Germany
+49 2622 707-0