KBH
Secondary Processing at Fujairah Concrete Products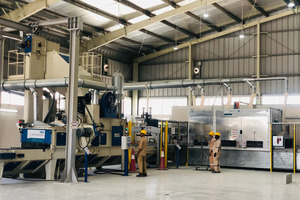 Figure: KBH
KBH Maschinenbau supplied a new finishing line for Fujairah Concrete Products
Figure: KBH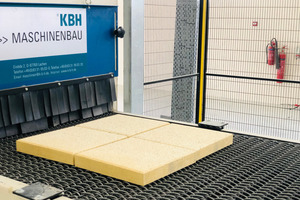 Figure: KBH
The new production line will elevate Fujairah Concrete Products' landscaping product line to the highest level of quality
Figure: KBH
Fujairah Concrete Products (FCP) – a group company of Fujairah Building Industries situated in Fujairah, UAE – has been a leading producer of high-quality pavers since 1978. Since its establishment the company – which is also the first EPD certified concrete products manufacture in the Middle East – has been committed to providing durable, stylish pavers that enhance outdoor spaces while minimizing their impact on the environment. With a focus on innovation and customer satisfaction, FCP has become a trusted name in the concrete product industry. Its dedication to sustainability, quality and customer service has earned it a loyal customer base and a reputation among other manufacturers. As FCP continues to grow and evolve, it remains committed to its core values, ensuring its products and practices are both environmentally responsible and of the highest quality.
KBH Maschinenbau is a German equipment manufacturer, which has been collaborating with FCP in designing unique and sustainable products since 2015. The latest result of this cooperation is the induction of a 'Texturing Line'. This secondary processing line will bring in new levels of efficiency to the texturing process of interlock pavers, flags, kerbstones and step blocks. KBH, known for its innovative technology, is using variable speed turbine wheels to blast stainless steel shots to develop aesthetically appealing surface textures.
Position of the company improved
These machines will enable FCP to launch a wide product range such as pavers, slabs (flag stones) and kerbstones, environmentally friendly and under lowest operational costs. The installation of the texturing machines is a significant investment for FCP, improving the position of the company in the concrete products industry of the Middle East.
FBI Team: "KBH Maschinenbau provides its customers excellent customer support. Its team of experts has installed the machine and provided training for FCP's staff and offers ongoing maintenance and support. Above all KBH is a manufacturer of high-quality architectural landscape products in Germany and the product support provides its customers a head start with the knowledge acquired over the years of production. The Texturing Line is composed of:
Cubers loading virgin product and offloading processed product layers.
State-of-the-art shot blast machine in conjunction with a 3-station curling line. Product layers will not be consolidated in neither the shot blaster nor the curling system.
This allows for smaller equipment foot print and ease of equipment supervision and highest plant flexibility, i.e. curling of kerbstones. The line can easily be upgraded to allow for a fully automated sealing line, without major disruption.
Overall KBH machines are an exciting addition to FCP's secondary production process. The company's investment in this technology is sure to pay off, positioning FCP as a unique alternative to other manufacturers.
CONTACT
KBH Maschinenbau
Einöde 2
87760 Lachen/Germany
+49 8331 9503-0