GOLDBECK
New precast concrete plant in Kirchberg expands production capacities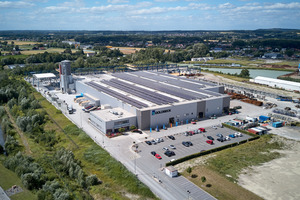 Figure: Goldbeck
Goldbeck has already been producing precast concrete elements at the Hamm plant since 2009 - this experience will be used in the construction of the plant in Kirchberg
Figure: Goldbeck
Goldbeck starts construction of its eighth precast concrete plant in Europe. On the newly developed site in Kirchberg, Rhineland-Palatinate, the company will once again significantly expand its production capacities for precast concrete elements: on an area of around 20,000 m², Goldbeck will manufacture columns, slabs and wall elements here from 2025, which the company will then assemble with other system elements to create turnkey commercial properties, such as production and logistics halls and multi-story buildings. The reinforcement for the concrete elements is also to be produced at the plant.
 "With the new plant, we are not only investing in the Kirchberg site, but also in the future of our entire company. In the first expansion phase, 150 to 200 new jobs will be created. It is already clear today that the plant is capable of growth and is prepared for further expansion," says Jörg-Uwe Goldbeck, managing partner of Goldbeck GmbH.
Capacities significantly expanded once again
The new plant marks an important step for the construction and service company Goldbeck. Managing Director Dr. Torsten Penz, explains the corporate strategic background: "The new plant will primarily supply construction sites in the Rhine-Main region. This will shorten transport routes and relieve the existing production sites. This brings economic advantages - also for our customers - and has a measurable impact on our CO2  balance." The decision in favor of the Kirchberg site was made after a systematic property and profitability analysis. "We feel very much at home here in the region and look forward to working with many committed people," adds Penz.
Goldbeck already operates six other precast concrete plants in Germany, Poland and the Czech Republic. In Bielefeld, Plauen and Lodz (Poland), Goldbeck produces steel elements.
Goldbeck is building the new plant in the same way as the company builds for its customers: with a system. Essential elements are industrially prefabricated, delivered to the construction site and then assembled on site within a very short time. In addition to cost and schedule reliability, this method of construction has another advantage: it conserves resources and saves a significant proportion of the CO2 emissions that would normally be produced. A special feature of the new plant in Kirchberg: "We are developing a very universal precast concrete plant here and testing an adaptable production design on the basis of which we can build further plants quickly and cost-effectively," says Dr. Sebastian Tschöpe, project manager and head of expansion at Goldbeck Produktions GmbH. "It is expandable and flexible in terms of the system elements produced."
CONTACT
Goldbeck GmbH
Ummelner Straße 4-6
33649 Bielefeld/Germany
+49 521 94 880