LIEBHERR MISCHTECHNIK
How Liebherr products come to the customer's site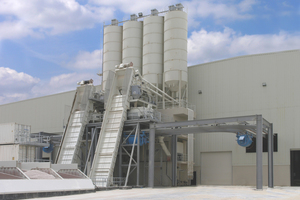 Figure: Liebherr
In addition to projects in Saudi Arabia (photo), Liebherr supplied, among others, customers in Japan and on the Bahamas
Figure: Liebherr
From 24 to 30 October 2022, at bauma 2022, Liebherr offered visitors unique opportunities to get hands-on experience on the latest developments in the sectors of construction machinery, cranes, materials handling and components. Under the motto "On your site" the company group demonstrated that it can be found always and everywhere on its customer's side – no matter whether directly at the construction site with high-quality machines, or with individual consulting, worldwide services and comprehensive solution concepts. The Liebherr outdoor stand presented more than 70 exhibits on an area of over 14,000 m². It showed numerous innovations and further developments from the sectors of construction machinery, cranes, materials handling and components. In addition to the Liebherr concrete technology products at the outdoor main stand, the topic of mixing technology for precast plants was highlighted in Hall C1.
In addition to the comprehensive preliminary report, Jürgen Forster, Production Manager at Liebherr for the Mixing Plant Division and Henrik Utoft, Team Leader for Loading and Shipping, provided an interview for BFT (issue of 10/2022).
In addition to bauma, day-to-day business continues as usual, also including other activities such as exports to non-everyday markets and/or countries.
Liebherr activity in many countries
A very special highlight was the delivery of a 0.5 mobile mixer to Kobe in the Japanese Perfecture of Okayamavia Hamburg, with transport on a total of four standard low-bed trailers. Implementation was through the actual direct customer, hpl-Neugnadenfelder Maschinenfabrik GmbH from northern Germany, with many years of experience in the special machinery sector for wind power technology and related transport. hpl-Neugnadenfelder has also built the foundation for wind power stations with a compact mixing plant directly onsite in the north of Japan. Following packing by Liebherr, pick-up and conventional overseas transport were handled by the direct customer, who also carried out further transport of the freight through the mountainous region of Japan.
A no less challenging project was delivery of a package of approx. fifteen 3.0 A-R / DW Betomix plants as well as a package of approx. 250 SKD sets of truck mixers in 2022 to Jeddah in Saudi Arabia. The shipment (also via Hamburg and/or Bremerhaven) contained parts for a total of 250 truck mixers in about 90 containers. The Liebherr plants for various large-scale infrastructure projects and/or gigantic individual projects in the recreational sector. Liebherr is represented in Saudi Arabia with its own sales and production company, which installs parts delivered by third parties from Germany in undercarriages by modular mode (e.g., bending sheets for drums, welding the drums and transport frames, final completion). The special challenge consisted here of mastering the required particularly comprehensive shipping documentation, including certificates of origin, customs invoices, export declarations, etc.
Delivery of a 2.5 mobile mixer to the Bahamas also took place in the summer of 2022, from Bad Schussenried via Antwerp (Belgium) to Nassau. The Liebherr plant will be used for erection of a hurricane-proof building (for the first time of solid construction and height of several stories). The special characteristic in this case was that it was the first shipment to the Bahamas and therefore required complex coordination in terms of precise scheduling throughout receipt of order, production sequence and transport by ship to meet the requirements of a very small industrial port with likewise small harbor cranes in Nassau.
CONTACT
Liebherr-Mischtechnik GmbH
Im Elchgrund 12
88427 Bad Schussenried/Germany
+49 7583 949-0