VHV
Grade-pure receiving and batching made easy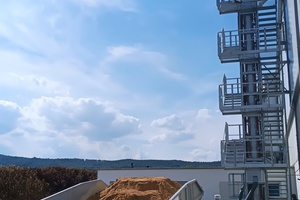 Figure: VHV-Anlagenbau
On the left, the VHV FlatFeeder with its partially heavy-load-supportinggrids. It was installed and commissioned at Weser-Diemel-Beton in March 2022. Behind it: the stairway at the dual-belt conveyor, assembled from the modular system typical for VHV
Figure: VHV-Anlagenbau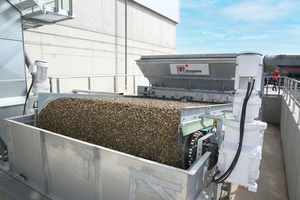 Figure: VHV-Anlagenbau
A 3-m wide discharge belt with efficient linear scraper and continuous blade contributed to uniform conveying capacity according to the requirements
Figure: VHV-Anlagenbau
Debut of the VHV FlatFeeder: in its new ready-mix concrete plant, Weser-Diemel-Beton processes at least 180 tons of gravel and sand per hour. These quantities must be reliably and quickly received as well as placed in storage, grade-pure. A task tailor-made for the innovative reception and batching station for bulk material at VHV Anlagenbau.
Material reception rethought
At the time that Weser-Diemel-Beton (WDB) planned its new ready-mix concrete plant in Elgershausen near Kassel in Germany, it was quickly evident that a new approach must be found for material reception. An underground bunker with wheel-loader batching, as used in other locations of the company, was not a good option here. The ground conditions and the groundwater level on the site spoke clearly against the construction of a basement.
VHV-Anlagenbau, part of the WDB corporate group, known as a reliable supplier of conveying equipment for decades, had the suitable solution: an innovative receiving and batching station for processing bulk material with a conveying capacity of 40 m3/h to more than 400 m3/h. It was designed to be built in in a shallow pit – or, alternatively, on ground level and accessible over a 1.50-m ramp – and would be perfectly combinable with VHV dual-belt conveying technology.
 Fast and grade-pure
"In Elgershausen, we produce around 90 m3 of concrete per hour, for which we need at least 180 tons of gravel and sand," explains Managing Director André Lämmel. As a result, the systems must be fast. No problem for the VHV FlatFeeder. Here, five to six semi-trailers discharge their entire load every hour and leave the receiving station directly afterwards. In Elgershausen, no waiting times for the trucks are allowed. "Our FlatFeeder has a reception volume of 23 m³ per batch and is suitable to take up all bulk material with particle sizes < 40 and/or <60 mm," emphasizes VHV Managing Director Bernhard Veltmann.
 At Weser-Diemel-Beton it is especially important that the bulk material is passed grade-pure to the downstream dual-belt conveyor. This is ensured in good part by the vibration impulses on the slatted grids, which release adhering material residues, and by an efficient linear scraper with continuous blade, which ensures that the draw-off belt, 3 m wide, is thoroughly cleaned. André Lämmel: "Our customers expect to get what they need on the construction site. Accordingly, at particle sizes of 0-2 mm, i.e., for fine-grained concrete, fine screed or mortar, no particle sizes of 8-16 mm or 16-32 mm may be included in the material."
Ideal for combining with steep-belt conveying technology
A VHV dual-belt conveyor with smooth belts ensures that grade purity is maintained also downstream from the VHV FlatFeeder. It transports the material vertically upwards, up to the silo roof. The VHV delivery scope for in-plant logistics in Elgershausen includes, moreover, a movable weather-protected distribution belt above the silos. Their filling level is monitored by ultrasound. From the silos, the material, perfectly batched, is discharged via the weighing belt to the ready-mix concrete mixing plant.
The WDB Managing Director is satisfied: "It was good that we decided on VHV and the efficient FlatFeeder. Collaboration, from planning to assembly, and commissioning with the team from Hörstel was smooth and pleasant." The VHV FlatFeeder has passed its field trials and is available as an alternative receiving station for processing bulk material of various kinds, where a basement with underground bunker is not an option and a cost-efficient alternative is desired.
CONTACT
VHV Anlagenbau GmbH
Dornierstr. 9
48477 Hörstel/Germany
+49 5459 9338-0