KANN BAUSTOFFWERKE
Talida patio slab with precious finish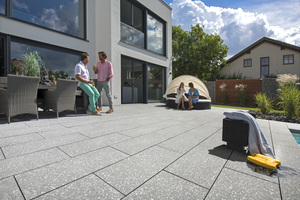 Figure: Kann Baustoffwerke
Harmonious eye-catcher through Talida: natural aggregates in different grain sizes
Figure: Kann Baustoffwerke
The new Talida patio slab made by Kann stands for decent design. In its elegant, calm and timeless look, the fancy large-sized slab is radiating harmonious clarity that is supported by a quiet color scheme in a light gray shade and an interesting graining additionally. According to the manufacturer, the slabs are in particular suitable for the design of patios and outdoor areas in an environment of modern architecture.
Ground and blasted surface
The ground and blasted surface of Talida even underlines the individual possibilities for design in outdoor areas. A special eye-catcher are the exposed natural aggregates of different sizes. The slab appears precious and consistent in outdoor design. Hence, it can be used in many ways as a design element. No matter whether in seating areas on generous or small patios or by the pool – Talida cuts a good figure everywhere. The standard dimensions of 80 x 40 x 3.8 cm are suitable for the design of continuous surface areas with a small amount of joints.
On the occasion of the GaLaBau trade fair in Nuremberg held from 14th to 17th September, planners as well as craftsmen will be provided with the opportunity to take a closer look on both the Talida patio slab and a major part of the other products of Kann – in hall 4 on booth 4–215.
CONTACT
Kann GmbH Baustoffwerke
Bendorfer Straße
56170 Bendorf/Germany
+49 2622 707-0