High-contrast exterior faces with concrete pavers from Stein+Design
History meets modernism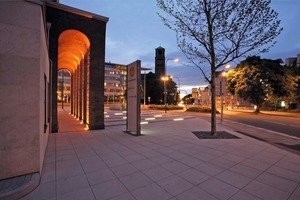 Fotos: Stein+Design
Fig 1
Light and natural stone bands structure the surface and establish a link to the building.
Fotos: Stein+Design
 The Glückauf House in Essen is certainly one of the most attractive office buildings in the German state of North Rhine-Westphalia. Built in the early 1920s based on a design by government architect Ernst Bode, it stood for a long time as a landmark for the industrial change of the city.
In designing the monumental massive brickwork structure, he was inspired by the paradigms of both classicism and expressionism. In 1924, in addition to the office spaces, the Film Studio Glückauf was opened in the building – one of the oldest movie theaters in Germany, which has been in almost continuous operation as a cinema venue since its opening.  

In 2004, the Essen real estate company of Kölbl Kruse GmbH bought the Glückauf House and commissioned the architects Bahl + Partner of Hagen, Germany, to create a new design for the building. With due respect and sensitivity, Bahl + Partner...