SYSPRO GRUPPE BETONBAUTEILE
"Syspro 2030" – precasters organize themselves
strategically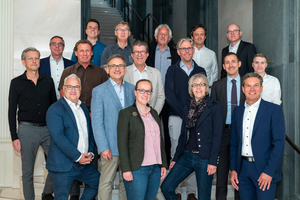 Figure: Syspro/Christoph Große
At the Syspro general meeting in Berlin: the Executive Board considers itself well-positioned on the road to
climate-neutral production
Figure: Syspro/Christoph Große
Confidence dominated when the precasters in the Syspro-Gruppe Betonbauteile celebrated their 30th anniversary. In Berlin, in May, Syspro Chairman of the Executive Board Matthias Schurig and Managing Director Dr. Thomas Kranzler drew a positive balance. At the general meeting, the Association of Medium-Sized Manufacturers can be pleased with full order books, plants working to capacity and rising sales in double walls, element floors and in particular thermo walls. With "Syspro 2030" moreover, the Syspro Group already plans to transform its production in their plants to CO2 neutrality.
In 1991, eleven manufacturers of elements with slab geometry on automated rotating production systems had initially formed a synergy association and established the Syspro brand. Today, 15 medium-sized companies from Germany, Belgium, South Tyrol and Austria have joined the quality association. Their to-do list includes exchange of expertise among members on a technical and strategic level – for example, on plant optimization, environmentally-friendly use of resources, product development, streamlining and marketing.
Its objective, now as then: to manufacture innovative precast elements at the highest quality level and with state-of-the-art, fully automated plant engineering. These products must convince the market not only in terms of structural reliability, building physics and visual appearance, but must in addition contribute to climate protection and the turnaround in energy policy.
62nd general meeting in in Berlin
In addition to high-quality element floors and double walls, the patented thermo wall, developed by the Group in 1999, is a key product of Syspro members.
The thermo wall is a prefabricated wall construction with core insulation integrated in the plant. It consists of the conventional double-wall system with precast panels as inner and outer shell, as well as the cast concrete. In 2021, the Group sold approx. 158,000 m2 of this product alone, corresponding to an increase of 12.6 % over the year 2000.
Innovations such as this are needed – in our present turbulent times and in the future – especially while globally disrupted supplier chains and the war in Ukraine currently burden the economy. Steep rises in costs for energy, construction materials and building services put the competitiveness of many market players to the test.
In this situation, the Syspro Group reacted counter-cyclically with the strategy "Syspro 2030." Our member companies collaborate with research institutions and are now investing even more in research and development to enable their plants to operate climate-neutrally over the medium term. They work, for example, on processes that reduce energy consumption in precast element production and progressively change power supply to renewable energies," reports Chairman of the Executive Board Matthias Schurig.
"We consider it our responsibility," agrees Syspro Managing Director Dr. Thomas Kranzler. "And if our functioning conversion activities are additionally realized by fast-track procedures by the approval authorities – all the better."
The decarbonization of the industry required by 2045 in the Climate Protection Law will also be a topic when the Syspro working groups Research and Development and Sustainability meet on 8 November 2022 for a joint conclave. The theme "Effects of climate protection legislation on the precasting industry" will be at the top of the agenda.
CONTACT
Syspro-Gruppe Betonbauteile e. V.
Matthias-Grünewald-Str. 1-3
53175 Bonn/Germany
+49 228 37756322