SYSPRO GRUPPE BETONBAUTEILE
"Our Quality Group is celebrating its 30th anniversary"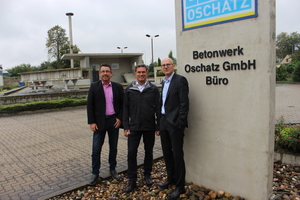 Figure: Betonwerk Oschatz
BFT Editor-in-Chief Silvio Schade met with the Chairman of the Executive Board of the Syspro Group, and with Managing Director Dr. Thomas Kranzler (from left to right) in the concrete plant Betonwerk Oschatz for an interview
Figure: Betonwerk Oschatz
In the September issue (BFT 9/2021, pp. 8/9) we reported on the newly elected Executive Board of the Syspro-Gruppe Betonbauteile, as well as on the Group's joining the "SolidUnit" network. At the end of August, BFT Editor-in-Chief Silvio Schade met with the Chairman of the Executive Board of the Syspro Group, Matthias Schurig, and with the Managing Director, Dr. Thomas Kranzler, (from left to right) in Betonwerk Oschatz in Germany for an interview.
BFT International: Dr. Kranzler, first of all sincere congratulations on your new position as Managing Director. Assuming that we do not already know you, how would you describe the Syspro-Gruppe Betonbauteile in only a few words?
T. Kranzler: Thank you. Syspro-Gruppe Betonbauteile e.V. is an alliance of innovative medium-sized companies in the precast industry to form a quality association. Syspro is the umbrella brand here, under which the individual member companies with their competent consulting teams function as market partners for planners and builders.
BFT International: We also congratulate you, Mr. Schurig, on your election as new Chairman of the Executive Board. What are your personal goals upon taking up this position?
M. Schurig: I hope that I and our new managing director will succeed in continuing to grasp the ever exciting topics in such a focused way and to advance them successfully. In addition to our well-known products, there will be further developments (with Syspro-green function integrations in well-known products, carbon concrete, foamed concrete, 3D printing, recycled concrete etc.), production processes and machines will be rethought, construction will be changed by CO2 and ecological balances, and the construction process and planning will be shaped by BIM. We are also supported by the newly elected and/or confirmed Syspro Executive Board.
BFT International: How has the Group developed since its foundation, and how would you define the current status quo?
T. Kranzler: That is a good keyword – this year, we are celebrating our 30th anniversary. The mission of our Group since its foundation, in 1991, is to ensure – on the highest level and by maintaining our own quality attributes – to exceed the normative requirements for precision precast concrete elements. Our primary objective was originally the exchange of experience on production of precast elements by automated circulation systems, which at that time had recently appeared on the market.
M. Schurig: Eleven manufacturers were founding members. Currently, Syspro has 15 members, two of which are from Austria, one from South Tyrol and one from Belgium. We ourselves, as Betonwerk Oschatz in Germany, have belonged to the Group since 1997 and I myself since 1999.
Dr.-Ing. Herbert Kahmer, by the way, after more than 25 years as Managing Director of the Syspro Quality Group, is leaving the Group upon reaching retirement age. His successor, as already noted, is Dr.-Ing. Thomas Kranzler.
BFT International: Can you give us an idea how we can imagine the activities of the Syspro members in detail – beginning with development and extending all the way to actual production of the precast elements – to reach these objectives?
T. Kranzler: For this, I have to mention more than just one point: our members manufacture by saving as many resources as possible, by employing fully automated and optimized production processes and by utilizing state-of-the-art plant engineering. Lived practice includes regular exchange of know-how among the executive staff, joint continuous training of co-workers as well as product development, streamlining and marketing.
M. Schurig: With Sysprogreen we acknowledge our responsibility for climate protection, and in this way furthering the concept of sustainability and energy-saving building in its highest form.  We emphasize our goal of contributing to energy and climate objectives by making substantial investments in further developing our plants and products – the use of eco and recycling concrete or thermal wall absorbers, to name just a few.
BFT International: Can you already name visible successes based on specific examples?
T. Kranzler: There are, for example, the patents and approvals for Thermowand 2002 and GRP pins (Syspro-Perfect Bars) 2011 for optimizing the thermal insulation properties of the thermal wall. Since the late 1990s, we have succeeded in achieving an expansion of our work by installing wall insulation in the plant.
The thermal wall was soon refined to the form of an aesthetic concrete façade with the known classic surface finishes. Extending in-plant performance eliminates otherwise typical and partly highly complex functions for coordination of performance components at the construction site. A new building system has been created that provides high structural bearing capacity as well as excellent protection form heat, noise, fire and moisture.
M. Schurig: We had the first EPDs already in 2010 and, since 2012, the approval for using eco concrete, i.e,. cement-reduced concrete. One Syspro member was, from 2017 to 2021, the lead partner of the EU project SeRaMCo, with focus on obtaining the required building permits for loadbearing construction elements.
In addition, we are partners in a range of projects involving textile and fiber concrete for use in double walls and in floor plates for floor systems.
BFT International: Mr. Schurig, Dr. Kranzler, thank you very much for the interview!
CONTACT
Syspro-Gruppe Betonbauteile e. V.
Matthias-Grünewald-Str. 1-3
53175 Bonn/Germany