GIC/MEDIAPOINT & EXHIBITIONS
The 4th edition of GIC Italian Concrete Days closed with an attendance boom of visitors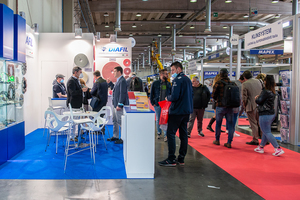 Figure: Mediapoint & Exhibitions
More than 5.000 visitors in Piacenza during the 3 days of GIC which confirm to be one of the biggest European exhibitions in the concrete sector
Figure: Mediapoint & Exhibitions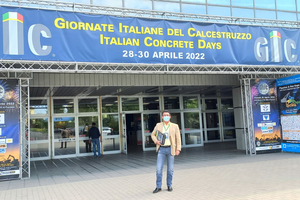 Figure: BFT International
Silvio Schade, Editor-in-Chief of BFT, was one of the numerous international GIC
visitor
Figure: BFT International
Over 5 thousand confirmed visitors; 234 accredited exhibitors; 8 conferences; 27 awards delivered; over 15 thousand square meters of exhibition space. The 4th edition of the GIC/Italian Concrete Days, held in Piacenza from 28th to 30th April 2022, ends with significant numbers.
A great success for the three days in Piacenza, during which the main innovations were put on display, in terms of machines, equipment, products and technologies for the concrete supply chain, prefabrication, demolition and restoration of reinforced concrete structures (also in seismic areas), recycling and transport of aggregates, continuous flooring and screeds, workplace safety, eco-sustainability and innovation were the main themes of the numerous conferences and workshops organized during the event.
Great satisfaction was expressed by Dr. Fabio Potestà, Director of Mediapoint & Exhibitions, as well as GIC organizer: "Surely this 4th edition was the restart of an important fair, in which the protagonists of the sector have found enthusiasm they missed during the pandemic-induced break. All of us could notice the great passion that united exhibitors and visitors in these three days.
The same that I encountered during the ICTA-Italian Concrete Technology Awards, the ceremony where awards were given out to Italian companies, entrepreneurs and professionals in the industry who have stood out over the previous 36 months for their innovative worth and the results of their work".
More than 5.000 visitors in Piacenza
The presence of foreign visitors and operators is particularly significant, confirming the growing role of GIC in the European trade fair panorama. For this achievement, GIC also has to thank the Italian and foreign associations, but also the Ministry of Labor and the Ministry of Infrastructure and Sustainable Mobility for their institutional support. Great success was also achieved by the innovative formula of "GIC by Night", the special evening program dedicated to the exhibitors and their guests, which was a pleasant novelty in the international scenario of specialized fairs.
"This edition of GIC/Italian Concrete Days closes with a very positive balance as to the quality of visitors, mostly operators in the concrete supply chain", continues Fabio Potestà, "A growing satisfaction, if we consider the very particular economic moment for the entire industry. Therefore, I can only thank all the exhibitors and, at the same time, promise that we will continue to do more and better to improve our event, whose 5th edition will take place at Piacenza Expo in 2024."
Dates still to be defined, to avoid overlapping with other events postponed because of Covid and as a consequence of the recent conflict between Russia and Ukraine.